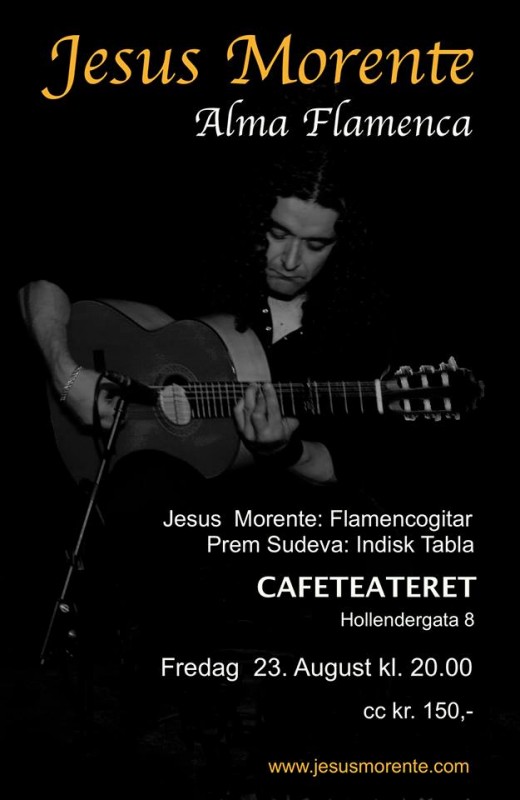 Jesus Morene spiller solokonsert «Alma Flamenca» på Cafeteatret i Oslo – Flamenco gitar møter indisk tabla.
Jesus Morente-gitar
Prem Sudeva-indisk tabla
Fredag 23. august kl. 20:00
billetter kr 150 (ved døra)
Jesús Morente presenterer «Alma Flamenca» i Oslo. Konserten er tideligere holdt i India og Spania og har fått gode kritiker.
Flamencologen Paco Zambrano har sagt om denne konserten og om Jesús:
Jesús Morente er først og fremst en musiker med stor inspirasjon og kreativitet. Musikken hans er en fusjon mellom tradisjon og innovasjon. Han spiller lett og elegant.
Selv om man iblandt kan høre at Jesus er inspirert av tradisjonelle gitarlegender som Diego del Gastor og Pedro Bacan er musikken særegen, og alt han spiller preges av hans personlige stil.
Hele anmeldelse finner du her:
http://www.hoyfuentedecantos.es/actualidad/2012-11-30/jesus-morente-profeta-tierra-2208.html
Prem Sudeva is a musician, percussionist and disciple of the tabla master Keshab Kanti Chowdhury.
Facebook: http://www.facebook.com/TocaorFlamenco
Web: www.jesusmorente.com