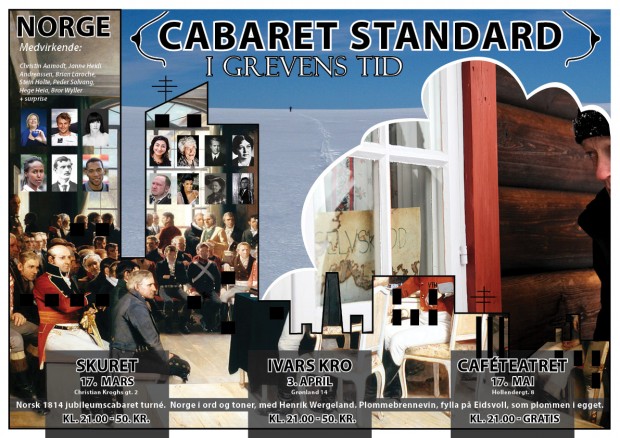 Cabaret 1814 jubileum 17. mai handler om å avkle seg sine naturlige gevanter i et ikke politisk korrekt syn på Norge, uten geberder, innenfor og utenfra blikk på Nordic Black Theatre.
Man tror liksom man har peiling, som en innfødt eller en fremmed, men Norge til bruk, ikke en fast størrelse er vårt ønske å fremføre 17. mai kl 20:00
Norge! Cabaret Standard har hatt cabareter to ganger i måneden siden februar i fjor og tatt opp en rekke emner, sist var det en trubadurcabaret på Skuret som het To muntre herrer fra Teddys, etter Shakespeare, og vi ere en nasjon vi med.
På Caféteatret har vi med en pianist, Per Karang, en vrangstøvel fra Sturm und Drang band, klassisk utdannet i Budapest 10 år, konsertpianist, som på Skuret 1814 cabaret spilte a-mollkonserten i ekstrakt.
Figgjo fajanse norsk næringsliv blir med som olje-lettere henslengt på soltrappa i Bærum skvisende ut alle som ikke er som oss. Seg selv nok!
En antirasistisk norsk cabaret er poenget, i sommarens soliga dagar! Svensker og andre innvandrere vil få rikelig med plass, sett fra Somalia, sett fra Nerdrum, sett fra Toten, som ikke har gått av moten, i en hiphop flare som slår.
Det faste ensemblet er Paul Brady, Christin Aamodt, Janne Heidi Andreassen, Stein Holte, Mari Høna og Brian Laroche, samt Elnaz Asgari fra Iran. Et tempel bygges opp.
I døra har vil pleid å ta 50 kroner, på Skuret, fordi det er maxpris der, som du ser har vi på samleplakaten satt opp gratis på cafeteatret, men det kan jo diskuteres.
Pris. Vi ønsker å få dekket våre utgifter, til ny plakat spesifikt for dette showet, i utgangspunktet en femhundrelapp, samt transport av Keyboard, hvis dere ikke har et anvendelig piano.
Og selvfølgelig ville ikke et lite honorar vært av veien.