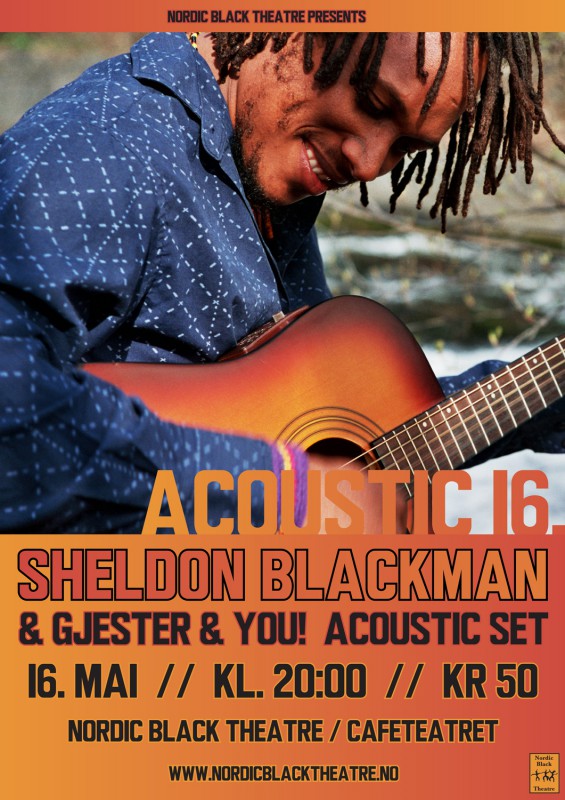 Sheldon Blackman & Gjester spiller varm, oppløftende musikk – den perfekte oppvarming til 16. og 17. mai!
Sheldon er velkjent fra hans konsept «Open Xpressions» men det er lenge siden at han spilt et akustisk sett av eget sanger.  Vi gleder oss!
kl. 20:00 – kr 50 i døra – konserten begynner kl. 20:30
Mer om Sheldon
Sheldon Blackman er en unik musiker og låtskriver fra den karibiske øygruppen Trinidad og Tobago, som nå er basert i Oslo med sitt band THE SOUL REBELS. Hans musikk er tidligere beskrevet som lyden av «karibiens musikalske hjerteslag», og er hans måte å leke med sjangere som calypso, soca, reggae, rapso og jamoo smeltet sammen til en unik og fengende lyd.
Hans kjærlighet for musikk var tydelig allerede i tidlig alder. Som sønn av den nå avdøde Ras Shorty I, selveste pioneren av musikksjangeren soca , fikk han god næring til den musikalske utviklingen hans. Jamoo er originalt en miks av jazz og afrikanske rytmer og sjangre som Blackman har utviklet videre. Blackman har spilt inn tre soloalbum;  'Remember Me', 'One Big Fat Love Bomb', 'Overflowing', og  to album med bandet sitt; 'Sheldon Blackman Acoustic' og 'Hope'. I tillegg har han medvirket på mange flere album.