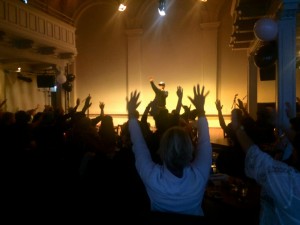 FRILANSFROKOST – PUBLIKUM REFRESH
Hvordan kartlegge og best nå ut til publikummet ditt?
Dette er en Frilansfrokost som diskuterer hvordan kunst- og kulturvirksomheter og utøvere skal få et så stort, bredt sammensatt og engasjert publikum som overhode mulig.
Gjennom samtale med Alexandra Archetti Stølen (festivalsjef Oslo World Music Fetsival) og Thomas Prestø (kunstnerisk leder i Tabanka) får vi to ulike infallvinkler til hvordan forstå og engasjere eksisterende og nytt publikum
Thomas Prestø forteller hvordan han arbeider med PR- og kommunikasjon rettet mot ulike minoriteter, og Alexandra Archetti Stølen vil dele med oss hvordan OWMF har klart å redefinere world-music begrepet, og skapt en helt ny publikumsmasse uten å miste sin gamle.
Frilansfrokosten blir ledet av artist Monica Ifejilika.
Det vil bli brukt Sli.do under dette seminaret, så om mulig last ned appen på forhånd (https://www.sli.do/)
Thomas Prestø er kunstnerisk leder for Tabanka, et profesjonelt dansekompani som aktivt jobber med å utvide den norske kunstscenen. Tabanka søker å representere det beste innen både tradisjonell, moderne, kunstnerisk og kommersiell afrikansk og karibisk dans og gjøre dette tilgjengelig for det norske folk, både som publikum ogutøvere. Tabanka African & Caribbean Peoples Dance Ensemble, bruker språket i afrikansk og karibisk dans, som verktøy for å uttrykke, utvikle og formidle et nytt moderne danseuttrykk.
Alexandra Archetti Stølen har vært festivalsjef i Oslo World Music Festival siden 2006. I tillegg er hun styreleder i The European Forum for Worldwide Music Festivals.
påmelding er gratis men viktig for å sikre plass! http://www.møst.org