TekstLab Unge Stemmer – mandager på Cafeteatret / Nordic Black Theatre kl 16.30-19.15. TekstLab Unge Stemmer viser forestillingen: «ID: the politics of identity» på Sentralen 22. oktober og under TekstLab Scratch Festival 27.-31. oktober på Dramatikkens hus og Cafeteatret / Nordic Black Theatre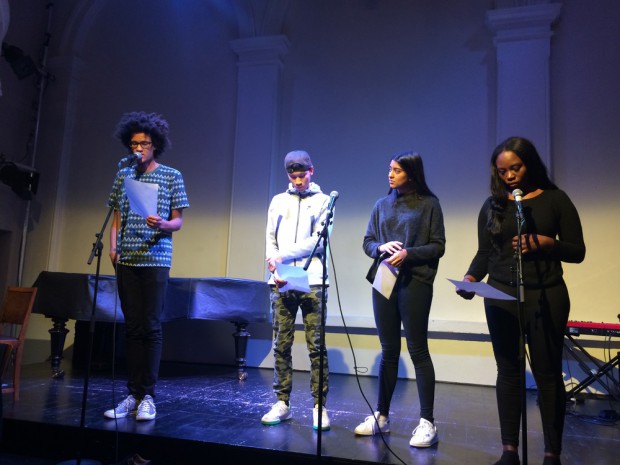 Mandag 5. september åpner vi opp for TekstLab Unge Stemmer på Cafeteatret / Nordic Black Theatre igjen etter en lang sommer! Det er ledige plasser – velkommen! (post@tekstlab.com)
Har du en god idé som du vil utvikle, skrive eller spille på scenen? En låt, tekst, dans eller historie? I TUS kan du prøve ut idéene dine på scenen. Du arbeider sammen med skuespillere, dansere, dramatikere, slampoeter, intruktører og musikere.
Vi jobber mot prosess-visninger på Scratch Kvelder og med egen forestilling: «ID: the politics of identity» som vises på Sentralen 22. oktober og på åpningen av TekstLab Scratch Festival 27. oktober på Dramatikkens hus
Tidligere teater, dans eller skriveerfaring er ikke nødvendig.
TekstLab Unge Stemmer er ledet av Shanti Brahmachari, sammen med Hanna Filomen Mjåvatn og Uma Feed Tjelta
Når? Hver mandag fra og med 5. september kl 16.30-19.15
Hvor? Cafeteatret / Nordic Black Theatre. Adresse: Hollendergata 8
Påmelding, spørsmål og informasjon: post@tekstlab.com eller sms: 905 36 248. TekstLab Unge Stemmer er et gratis tilbud