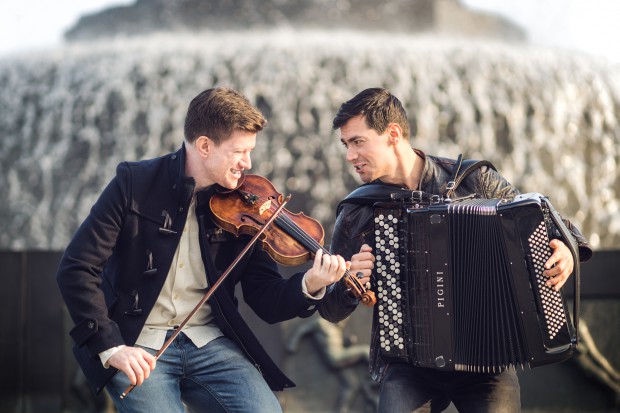 1000 knapper og 4 strenger
Vil du møte to bestevenner som spiller sammen på 1000 knapper og 4 strenger? Almir og Daniel spiller folkemusikk fra Balkan på fiolin og trekkspill. De kan lage utrolig mange rotete, rare eller pipete lyder, og så kan de spille superfort med begge hender samtidig. Bli med på konsert!
I en verden ikke langt herfra, og for ikke så veldig lenge siden, brøt det ut en voldsom krig. Landet Jugoslavia ble delt inn i flere mindre land, og menneskene som bodde der ble spredt og adskilt. Midt oppi dette sto to små gutter på hver sin side av grensene. Det var Daniel og Almir.
Daniel var 10 år, og hadde spilt fiolin helt fra han var 4 år gammel. Han bodde i det nye landet Serbia, og ble kalt serbisk. Almir bodde i Bosnia og spilte trekkspill. Selv om de ikke kjente hverandre, hadde de to guttene en felles drøm: de ville begge to bli best på sitt instrument, og å kunne leve av musikken sin.
Begge guttene ville reise bort fra krigen. Da de møttes i Norge, forsto at de kunne spille sammen selv om de var fra hver sin side av grensen. De hadde vokst opp med å høre den samme musikken, selv om de ikke kjente hverandre. Nå er de bestevenner og elsker å spille sammen.
konserten er presentert i samarbeid med Samspill International Music Network og deres prosjektet Baluba
www.samspillweb.no