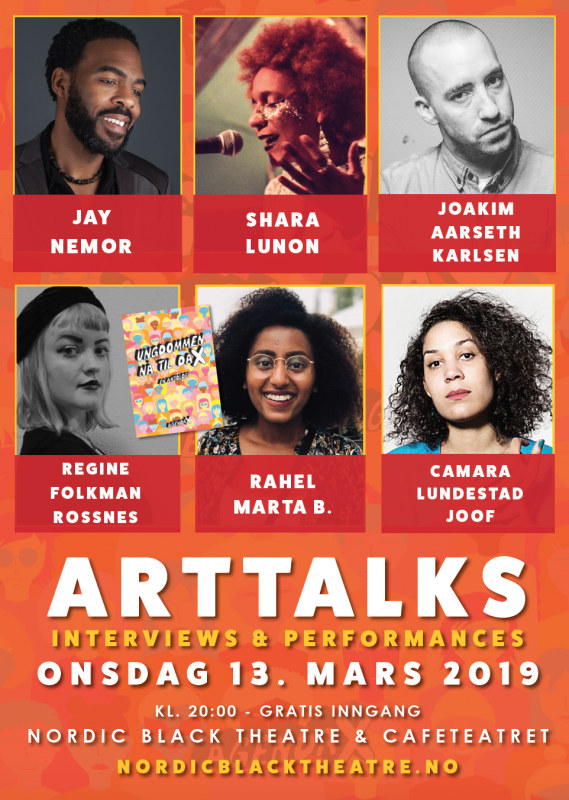 Arttalks 13. mars
Vi gleder oss å bli bedre kjent med:
Jay Nemor – musiker og skuespiller som har skrevet «After the Dream» en forestilling om Martin Luther King med premiere 4. april 2019
Shara Lunon – vocalist og musiker fra USA som i Norge for å være med på teaterforestillingen «After the Dream»
Joakim Aarseth Karlsen – kunstner som har åpnet en ny utstilling på Galleri Røed (2. – 30. mars)
Regine Folkman Rossnes & Rahel Marta B. – forfattere som er med på Agenda X ny utgivelse «Ungdommen nå til daX»
Camara Lundestad Joof – skuespiller, forfatter, rådgiver, kunstner, pedagog og mer!
Hver Arttalks invitere vi 4-5 kunstnere for et intervju og for å vise oss litt av hva de holder på med.
Filmskapere, forfattere, dansere, musikere, regissøre, skuespillere +++ kan oppleves. Publikum kommer nærmere kunstnere og kunstere kommer nærmere publikumet!
fra kl. 20:00 – 22:00
gratis inngang