Urfremføring! – Daniel Herskedal og Oslo Messingkvintett
fredag 22.november kl 19:30 cc: 200 Cafeteateret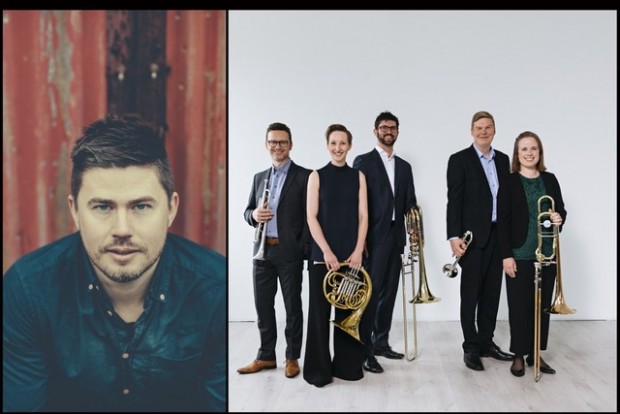 Høstens store begivenhet med Oslo messingkvintetter urfremføring av Daniel Herskedal sitt nye verk, omkranset av slampoesi av og med Sofia Estifanos.
I tillegg vil Oslo messingkvintett fylle konserten med klassisk kvintettrepertoar vi vet appelerer til et bredt publikum. Det blir originalskrevet musikk av Lutoslawski (1982) og Nordentoft (1984) som utfordrer ensemblet i teknikk, rytmikk og klangbehandling. Og det blir både svensk og argentinsk tango av hhv Joakim Agnas (2002) og Astor Piazolla (1970). Mellom musikkstykkene vil slampoet Sofia Estifanos fremføre egne tekster. Estifanos vil binde sammen musikken og tanker rundt det å lytte, uten å gi «svaret» på hva musikken handler om. Slampoesi kan like gjerne ha tekster med humor, som ha en alvorlig tone og tematikk. Den dirkete samtalen til publikum vil åpne ørene, knytte publikummet tettere til de forskjellige stykkene og gi en helhetlig konsertopplevelse.
Verket til Herskedal:
Komposisjonen til Herskedal er støttet av Det norske komponistfond og har tre satser. Herskedal har skrevet musikk til kvintetten som er klassisk, men den har orientalsk folkemusikk som utgangspunkt. Den bruker ornamentikk og tonalitet fra arabisk musikk. Han bygger videre på musikken og inspirasjonen som man kan høre på de to kritikerroste albumene: Slow Eastbound Train og The Roc. Daniel Herskedal er utøvende tubaist og komponist. Herskedal har de siste årene fordypet seg i arabisk musikk gjennom turnéer og studiereiser i Midt-Østen med fordypningsstipend fra Komponistenes Vederlagsfond. Han har lært oriantalske komposisjonsteknikker, skalabruk, rytmikk, ornamentering og vil på den måten bringe noe helt nytt inn i messingkvintett-litteraturen.
https://www.facebook.com/events/502806080547310/