a live concert by Neo Muyanga to coincide with William Kentridge's video Second-hand Reading
A part of Listening to the Echoes of the South Atlantic
February 6 – April 5, 2020
Curated by Selene Wendt and developed in collaboration with Goethe-Institut, Oslo Kunstforening and Nordic Black Theatre.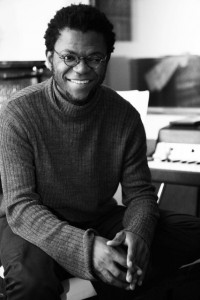 neo muyanga was born in soweto.
he studied the italian madrigal tradition with choral maestro, piero poclen, in trieste, italy.
in the mid 90's he co-founded the acoustic pop duo, blk sonshine with masauko chipembere, garnering a following throughout southern africa and internationally.
neo writes music plays, chorus songs and has a variety of works for chamber and large ensemble (his operetta, "the flower of shembe", premiered to critical acclaim in 2012).
he continues to tour widely both as a solo performer and in various band guises.
neo co-founded the pan african space station in 2008 with chimurenga's publishing editor, ntone edjabe, as a continually evolving host of cutting-edge pan african music and sound art on the internet and across stages in cape town and other parts of the globe:
—

Second-Hand Reading is composed of hundreds of drawings superimposed on pages from the Shorter Oxford English Dictionary and other lexicons and encyclopedias. Like figures on a stage, drawings of the artist, scenes from nature, geometric shapes and phrases dance to music by Neo Muyanga across a backdrop of definitions and classifications. These rational sequences of words are counterpoised with the intuitive and the imaginary.
William Kentridge is one of South Africa's pre-eminent artists; globally acclaimed for his drawings, films, lecture performances and opera and theatre productions. His work draws on varied sources, including philosophy, literature and early cinema to create intricate art works and spellbinding environments in which he explores theories of time and relativity, the history of colonialism and the aspirations and failures of revolutionary politics.