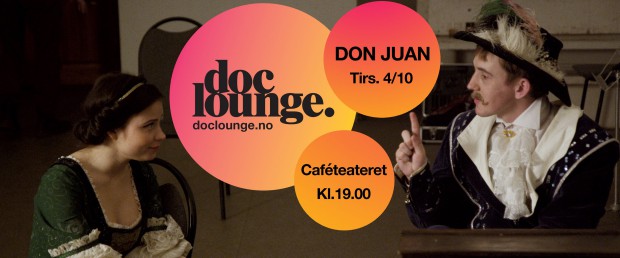 Har du spørsmål om sjekking, kjærste eller singelliv? Spørsmål som du ønsker eksperttips på eller ikke tør å spørre vennene dine om? Kom på Doc Lounge tirsdag 4. oktober og få svar da vel!
https://www.facebook.com/events/305537586493487/
VELKOMMEN TIL DOC LOUNGE!
Denne høstkvelden ønsker vi å vise deg den prisvinnende dokumentaren «Don Juan»!
** Winner of the price Best Feature-Length Documentary at IDFA 2015. **
22 år gamle Oleg lever ikke opp til sin mors forventninger. Hun synes at han er en autistisk dagdriver. Moren vil at Oleg skal få et bedre liv og utsetter ham for en rekke uvanlige behandlinger. Filmen følger Oleg i hans søken etter selvtitllit og kjærlighet. Han er omringet av folk som ønsker å hjelpe, men ingen får det til. Plutselig kommer hjelpen fra uventet hold.
Se trailer her: https://vimeo.com/147926182
Etter filmen får DU muligheten til å sende inn anonyme spørsmål til et ekspertpanel. De kan svare deg på alt du lurer på om sjekking, samliv, sex og sosiale ferdigheter.
Med oss i panelet har vi Thomas Leikvoll, Per-Magnus Thompson og Bianca Scmidt.
Thomas Leikvoll er komiker og programleder, som evner å se det vanlige hverdagsliv fra nye og svært overraskende sider. Han er også forfatter av boken «Small talk».
Per-Magnus Thompson er psykolog og parterapeut. Per-Magnus skriver doktorgrad om tilknytning. Han er også med som psykolog på «Gift ved første blikk» og var tidligere med i Juntafil om P3.
Bianca Schmidt er gestaltterapeut, veileder, samlivsterapeut og sexolog og fast spalitist i VG. Hun er med andre ord dreven på å gi råd om kjærlighet og samliv.
VI SEES!
————————————————————
DØRENE ÅPNER: 18.00
ARRANGEMENTET STARTER: 19.00
Billetter selges i døren: 70,- (50,- for studenter)
————————————————————
OM DOC LOUNGE OSLO:
Doc Lounge Oslo har månedlige dokumentarfilmvisninger. Arrangementene er lagt til første tirsdag i måneden på Caféteateret. Vi ønsker å lage inspirerende kvelder basert på gode dokumentarer, med tilskudd av musikk, underholdning, foredrag, forestillinger eller utstillinger.