(English below)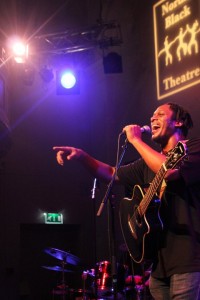 Held every third Wednesday, Open Xpressions include three elements:
a forum for artists
a showcase
an open stage
To participate on the open stage, you have to sign up in the open before 7 pm. The book is placed on a table by the bar. The showcase starts at 8 pm, and the stage is open after that.
We are open to almost all forms of creative expression: music, dance, poetry & spoken word, film, comedy, opera, theatre, and art, to name a few. Various art forms rarely share the same stage or hall.
Started by Sheldon Blackman and Nordic Black Theatre, Open Xpression began 3rd of February 2010 at the theatre-boat MS Innvik.
Many performances have been filmed and can be seen on Youtube:
http://www.youtube.com/user/nordicblack
Join our Facebook group for updates and info:
http://www.facebook.com/groups/289950718583/?fref=ts
——————————————————————-
Open Xpressions avholdes hver tredje onsdag. Den har tre deler:
Et forum for artister
En forestilling
En åpen scene
For å fremføre på åpen scene, må man signere navnet sitt i den åpne boken innen kl. 1900. Boken ligger på et bord ved siden av baren. Forestillingen starter kl. 2000 og scenen er fri etter det.
Vi ønsker alle kunstformer velkommen: Musikk, dans, poesi & spoken word, film, komedie, opera, teater og kunst, samt mye mer. Det er sjeldent at ulike kunstformer deler scene.
Open Xpression startet 3. februar 2010 på teaterbåten MS Innvik. Det ble startet av Sheldon Blackman og Nordic Black Theatre.
Flere opptrender har blitt filmet og kan ses på Youtube:
http://www.youtube.com/user/nordicblack
Bli med i Facebook siden vår for oppdateringer og info:
http://www.facebook.com/groups/289950718583/?fref=ts