VELKOMMEN TIL CAFETEATRET OG NORDIC BLACK THEATRE
(English below)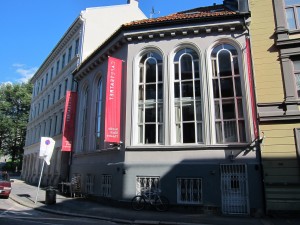 Nordic Black Theater har hjem på Cafeteateret, i hjertet av Grønland (Hollendergt. 8, vis a vi Politistasjonen). Her finner du et av Oslos mest kreative og levende miljøer. På Cafeteateret møter du et fellesskap av mennesker fra hele verden og i alle aldere. Det er mennesker som lever for å bringe musikk, kultur og glede til verden. Som gjest hos oss vil du føle deg sett. Dette er ikke bare et teater, teaterskole og en cafe. Dette er et hjertevarmt felleskap.
Nordic Black Theater ble innviet på Parkteateret på Grünerløkka i 1992 av Cliff Moustache og Jarl Solberg. De hadde blitt kjent på Antirasistisk Senter og ønsket å jobbe med unge mennesker. Cliff, som vokste opp på Seychellene, er teaterets kunstneriske leder, mens Jarl er daglig leder.  Teateret er blitt et arnested for utvikling av transkulturell scenekunst i Norge. En generasjon flerkulturelle skuespillere er blitt synlige i film og på teaterscener over hele landet. Jarl og Cliff har nå jobbet sammen i over 30 år.
«Kunst er den rette medisin for menneskeheten,» sa Cliff da han ble tildelt Kulturrådets ærespris i 2020: «Den gir oss næring slik at positive endringer kan finne sted.»
Nordic Black Theater har opptrådt med forestillinger over hele verden. Noen høydepunkter: Teatergruppen har dramatisert historien om Bob Marley på Seychellene, mens den har fremført Kardemomme By i Essaouria i Marokko. På den Norske Operaen har Nordic Black Theater spilt for fullsatte saler med stykker om blant annet Martin Luther King og Mohammed Ali.
I 2001 flyttet Nordic Black Theater fra Grünerløkka til Bjørvika og teaterbåten MS Innvik, som også var et av Oslos mest særegne overnattingssteder. I 2011 gikk veien videre til Cafeteateret på Grønland.
Cafeteateret er opprinnelig en metodistkirke fra 1895. Bygget er luftig med god akustikk og med interiør i nyrenessansestil.
Velkommen til oss!
————————————————————————-
Nordic Black Theater has its home at Cafeteateret, located in Grønland, a Soho-like district in Oslo's heart (Hollendergt. 8, vis a vis Oslo's central police station). At Cafeteateret, you will find one of Oslo's most creative and vibrant communities, a diverse group of people with a strong desire to bring music, culture, and joy to the world. Nordic Black Theater is not only a theater, school, or café. It is, most of all, a caring community.
Nordic Black Theater was incepted at Parkteateret at Grünerløkka in 1992 by Cliff Moustache and Jarl Solberg. They met at Antirasistisk Senter (The Norwegian Centre against Racism) and wanted to work with young people. Cliff, who grew up in Seychelles, is the theatre`s creative leader, while Jarl is in charge of all things administrative. The theatre has to become a breeding ground for transcultural performers in Norway, many of whom have made their mark in film and on theatre stages all over the country. Jarl and Cliff have now worked together for more than 30 years.  
«Art is the right kind of medicine for mankind,» Cliff said when he received Kulturrådets (the Norwegian Ministry of Culture) honorary award in 2020: «It nourishes us so that positive changes can be realized.
Nordic Black Theater has performed all over the world. Some highlights: The dramatization of Bob Marley's story in Seychelles and Thorbjørn Egner's «Kardemomme By» in Essaouria in Marocco. At the Norwegian Opera, the theatre has performed in front of packed audiences with plays about Martin Luther King and Mohammed Ali.
In 2001, Nordic Black Theater moved from Grünerløkka to Bjørvika and revived the theatre ship MS Innvik, which was also one of Oslos most characteristic overnight accommodations. In 2011, Nordic Black Theatre reallocated to Cafeteateret in Grønland.
Originally a Methodist church from 1895, Cafeteateret is spacious, with excellent acoustics and neo-renaissance design.
Hope to see you soon!