(English below)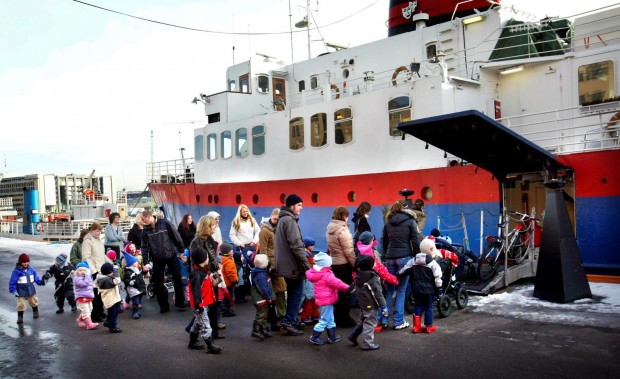 Nordic Black Theatre eide og drev teaterbåten MS Innvik fra 2001 til 2010. Båten var ankret opp i Bjørvika, Oslo, rett ovenfor den Norske Opera.
Innvik var opprinnelig en bilferge bygd i 1967. Den ble ombygd til teaterbåt i 1987. De neste 14 årene var den på turné langs Norges kyst. Båten ble blant annet brukt til poesi, teater og musikk.
I 2001 ble båten registrert som «ikke lenger sjødyktig» og lagt ut for salg. Kort tid etter var Nordic Black Theatre på utkikk etter et nytt hjem og kjøpe båten. I august samme år ble den satt til kai på Bjørvika. Sammen med Anne Beate Hovind og Tone Holmen, drev de båten som kafé, teater og Bed & Breakfast. De promotere et bredt spekter av arrangementer og etter kort tid var båten et møtested for alle slags mennesker.
Nordic Black Theatre handlet om å bringe folk sammen og om å være et sted for musikk å glede. Det kunne virke som et umulig prosjekt: I 2001 var Bjørvika et slitent, industrielt område, som etter arbeidstid hovedsakelig ble besøkt av lastebilsjåfører, danskebåt passasjerer, prostituerte og narkomane. Men Innvik var kommet for å bli, og ble raskt et populært samlested for folk i alle aldre og fra alle kulturer.
Med åpningen av Operaen i april. 2008, nådde MS Innvik sitt høydepunkt som et pulserende senter for kunst og kultur. Hotellet var fullt året rundt med turister, pendlere og artister. Teatersalen var en scene for alle: Verdenskjente musikere, amatør-barneteater, kinesiske punkere, mannekor fra Nord-Norge, jazz studenter, reklamefilmbyråer, sirkus artister, band, kor og korps – til og med Hans Kongelige Høyhet Kronprins Haakon kom på besøk. MS Innvik var et sted for mangfold.
Teateret var kjernen i virksomheten, men publikum kunne også nyte Family Reggae Disco, Open Xpressions, World Beats konserter, sommerkafé og mye mer.
I 2010, etter 1500 forestillinger, 100.000 publikummere og 30.000 overnattingsdøgn ble MS Innvik lagt ut for salg. Nordic Black Theatre var igjen på flyttefot.
Vi hilser og takker alle som var med på MS Innviks fargerike og spennende historie.
——————————————————————————
Nordic Black Theatre owned and operated the theatre ship MS Innvik from 2001 to 2010. The boat was anchored in Bjørvika, Oslo, right ahead of the Norwegian Opera.
Originally a car ferry built in 1967, Innvik was reconstructed into a theatre boat in 1987. The following 14 years it spent on tour along the Norwegian coast. The ship was used for, but not limited to, poetry, theatre, and music.
In 2001, the boat was designated as "no longer seaworthy" and put up for sale. In need of a new home, Nordic Black Theatre bought Innvik. In August the same year, the boat was moved to and anchored at Bjørvika. Together with Anne Beate Hovind and Tone Holmen, they made the boat into a café, theater, and B&B.
The mission of Nordic Black Theater was to bring people together through music and art. It could seem like an impossible project: In 2001, Bjørvika was a run-down, industrial area, visited at the late hours by mostly truck drivers, cruise ship passengers, prostitutes, and drug addicts. Nonetheless, Innvik became a popular place for people from all cultures and of all ages quickly.
With the Norwegian opera opening, MS Innvik reached its peak as a pulsating hub of culture and art. The hotel was full all year round with tourists, commuters, and artists. The theater stage was for everyone: world-famous musicians, Chinese punkers, a man-only choir from rural Norway, jazz students, acrobats, choirs, and corps – even His Royal Highness Crown Prince Haakon has visited the boat. MS Innvik was a place of diversity.
Though the theatre was the core of the operation, people could still enjoy family Reggae Disco, Open Xpressions, World Beats concerts, summer café, and much more.
In 2010, after 1500 performances, 100.000 attendees, and 30.000 overnight stays, MS Innvik was put on sale. Once again, Nordic Black Theatre was on the move.
We thank all of you who contributed to the colorful and exciting days of MS Innvik.