Historikk – MS Innvik
Nordic Black Theatre owned, worked, played and lived at the theatre-boat MS Innvik for 9 fantastic years from 2001-2010. The boat was anchored in Bjørvika, Oslo right opposite where the Norwegian National Opera and Ballet house is today.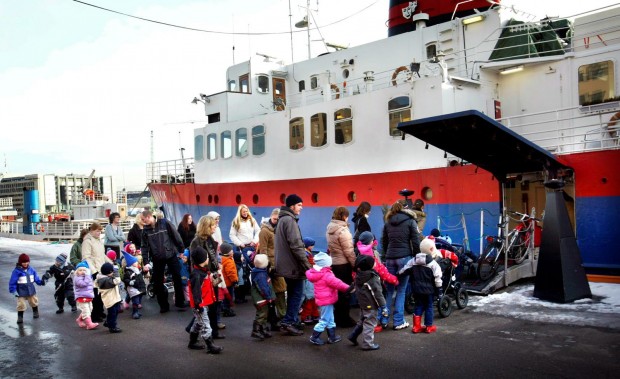 Nordic Black Theatre eide og drev teaterbåten MS Innvik i 9 fantastiske år fra 2001 til 2010. Båten var ankret opp i Bjørvika, Oslo, rett ovenfor der Opera & Ballet bygningen ligger i dag.
Opprinnelig var båten en bilferje bygd i 1967, ombygd til teaterbåt i 1987. Fra 1987 hadde MS Innvik et spennende liv på turné langs Norges kyst. Man kunne leie båten med crew og ta en teaterforestilling på turné til utvalgte byer. Utallige grupper brukte båten til poesi, teater, musikk og mer. Det er mange som har gode minner fra båten fra denne perioden, både artister og publikum.

Båten ble tatt ut av drift og registrert som «ikke lenger sjødyktig» i 2001. Kort tid etter var Nordic Black Theatre på utkikk etter et nytt hjem.  Lederne Jarl Solberg og Cliff A. Moustache klarte å kjøpe båten og sette den til kai i Bjørvika i 2001. Sammen med Anne Beate Hovind og Tone Holmen begynnte de å drive båten som Bed & Breakfast, kafé og teater. De begynte å promotere et bredt spekter av arrangementer på båten og etter kort tid var det et møtested for alle slags mennesker.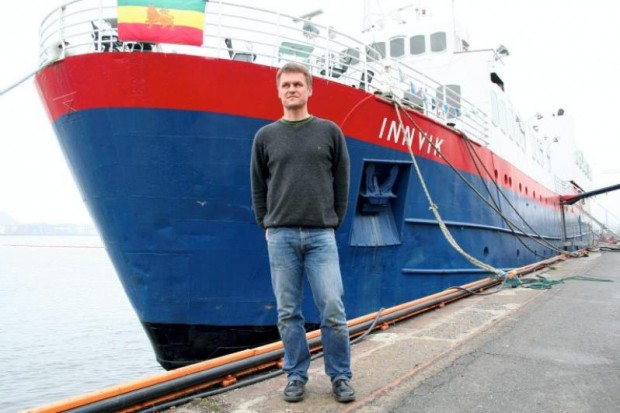 På denne tiden var Bjørvika et slitent, industrielt område som etter arbeidstid hovedsakelig ble besøkt av lastebilsjåfører, danskebåt passasjerer, prostituerte og narkomane. Midt i dette miljøet kom Nordic Black Theatre med et flerkulturelt tilbud for folk i alle aldre og interesser. Det kunne kanskje virke som et umulig prosjekt, men Nordic Black holdt på sine visjoner og etterhvert ble båten mer og mer populær.
Da Operaen åpnet økte også interessen for området og MS Innvik nådde sitt høydepunkt som et pulserende senter for kunst og kultur. Programmet var variert og dynamisk. Båten ble kjent som et sted hvor alle slags mennesker møttes. Hotellet var fullt året rundt med turister, pendlere, artister, arbeidsinnvandere og mer. Teatersalen var en scene hvor man kunne se variert kultur, alt fra verdenskjente musikere til amatør-barneteater og fra kinesiske punk til mannskor fra Nordnorge. Frieteatergrupper, jazz studenter, reklamefilmbyråer, sirkus artister, band, kor, korps og til og med Hans Kongelige Høyhet Kronprins Haakon, for å nevne noen. Hele verden var på båten, både på scenen, i hotellet, i baren og i publikum.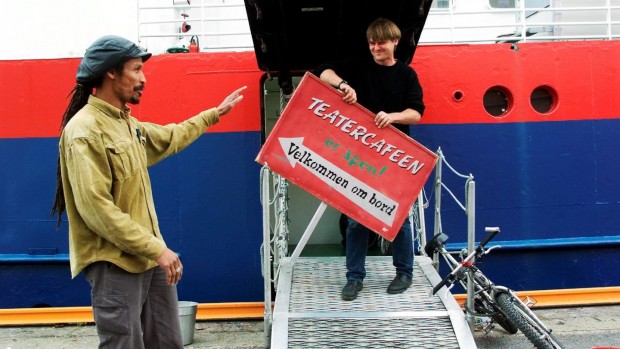 Teateret var kjernen i virksomheten men publikum kunne også nyte Family Reggae Disco, Open Xpressions, World Beats konserter, sommerkafé og mye mer.
I 2010, etter 1500 forestillinger, 100.000 publikummere, og 30.000 overnattingsdøgn ble den gamle bilfergen erklært en brannfare av Oslo Brannvesen. Etter 9 fantastiske år på MS Innvik valgte Nordic Black Theatre å flytte igjen.
Vi hilser og takker alle som var med på MS Innviks fargerike og spennende historie.