Slippkonsert
Hilde Brunsvik «Run For Love II»
28. februar kl 1930
Billetter selges i døra og her: https://nordicblacktheatre.ticketco.events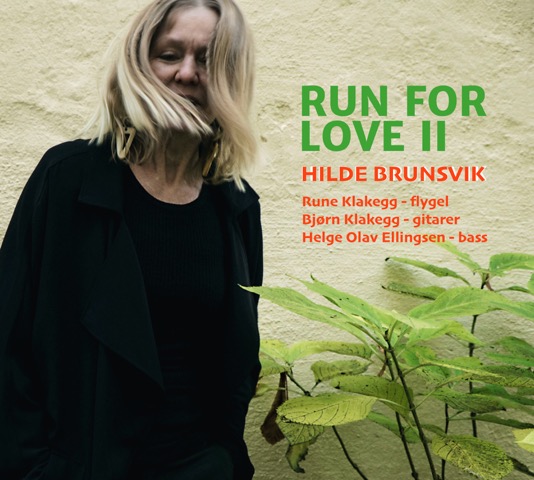 Forfatter, sanger og låtskriver Hilde Brunsvik platedebuterer med et fargerikt knippe egne låter med trøkk, sanselighet og nerve. Musikken er blå og jazza og litt til, tekstene handler om kjærlighet i mange fasonger og størrelser og andre viktige ting, som håp, død, katter, og hvordan komme seg opp om morgenen og ut i dagen.
På slippkonserten stiller Hilde med solid mannskap – Rune Klakegg på flygel og trekkspill, Bjørn Klakegg på gitarer, Helge Olav Ellingsen på kontrabass, og lydtekniker Vidar Lunden fra Musikkloftet studio på lyd.
Rune Klakegg har vært langt framme på den norske jazzscenen i en halv mannsalder, som pianist, komponist og bandleder. Han har spilt i ensembler som Rune Klakegg trio, Cutting Edge, Søyr, Out To Lunch, Lonely Woman, Øvrevoll Spelemannslag og Scheen Jazzorkester, og samarbeidet med folk som Lars Klevstrand, Espen Rud, Morten Halle, Guttorm Guttormsen, Alfred Janson og broren Bjørn Klakegg, for å nevne noen.
Bjørn Klakegg, låtskriver og gitarist, har fartstid fra band som Extended Noise, Out To Lunch og NUKU, samarbeid med folk som Knut Reiersrud, Terje Gewelt, Harald Skullerud, Frode Alnæs, Lars Klevstrand og bror Rune Klakegg, og som komponist for teater- og dansescenen. Hovedfokus har likevel vært på egne bandprosjekter og egen musikk, i de senere årene med progrockbandet Needlepoint.
Helge Olav Ellingsen har vært en bassmann hele sitt liv, med studier i Oslo, Praha og Minneapolis, og fartstid fra Balkansemblet og Sandvika storband, fra samarbeid med folk som Elsa Kvamme, Solfrid Molland og Georg Reiss, og utallige teateroppsetninger.
Hilde Brunsvik, tekst, musikk, sang
Rune Klakegg, flygel, trekkspill
Bjørn Klakegg, gitarer
Helge Olav Ellingsen, kontrabass
Vidar Lunden, lyd