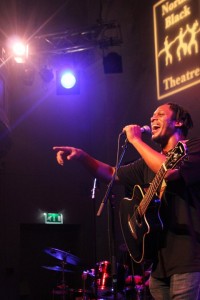 Open Xpressions is held every third wednesday.
Each time we include three elements:
– a forum for artists
– a showcase
– open stage
To participate on the open-stage people simply have to sign up in the book at 7pm.  The showcase starts at 8pm and the stage is open thereafter.
We are open to all forms of expression: music, dance, poetry & spoken word, film, performance, comedy, opera, theatre, art – anything
It is rare that different art forms and audiences share the same stage or hall.
Open Xpression began on 3rd february 2010 at the theatre-boat MS Innvik. It was started by Sheldon Blackman and Nordic Black Theatre. When the boat closed and Nordic Black Theatre moved to Cafeteatret in Grønland, Oslo, Open Xpressions moved with them and the project has gone from strength to strength.
Many artists have been filmed and can be seen on youtube here:http://www.youtube.com/user/nordicblack
You are most welcome to join our facebook group for updates and info: http://www.facebook.com/groups/289950718583/?fref=ts