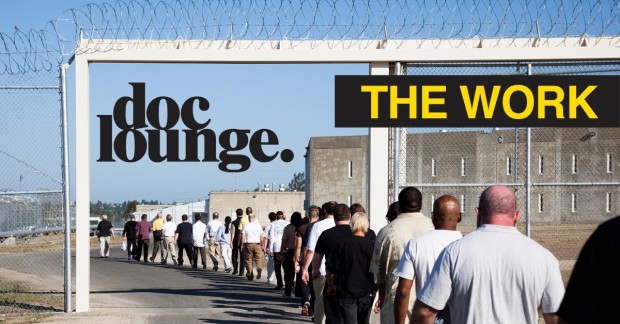 ★VELKOMMEN TIL DOC LOUNGE★
I samarbeid med HUMAN presenterer vi:
The Work + Introduksjon av Psykologspesialist Morgan Adolfsen
————————–—————
Gruppeterapi i høysikkerhetsfengsel.
————————–—————
Doc Lounge i samarbeid med HUMAN internasjonale dokumentarfilmfestival har gleden av å vise den prisbelønnede dokumentaren THE WORK.
I dokumentaren blir vi fluen på veggen når en gruppe innsatte i Folsom Prison møtes for en intensiv fire dagers gruppeterapi-treff, da sammen med en gruppe utenforstående «vanlige» mennesker. Samtidig som de innsatte snakker åpent og brutalt ærlig om hvordan de endte opp bak murene, får de utenforstående mennene et nytt perspektiv på både seg selv, livet og verden.
Filmen har fått priser som Audience Award – Sheffield Doc Fest
og Grand Jury Award – SXSW – så her er det bare glede seg.
Gruppeterapi er noe vi har sett mer til og som har blitt mer diskutert de siste årene – både på godt og vondt. Hvordan fungerer egentlig gruppeterapi? Hvordan er det når en gruppe menn med ulik bakgrunn kommer sammen for å snakke om følelser?
Psykologspesialist Morgan Adolfsen vil svare på blant annet dette når han introduserer filmen.
Trailer til filmen: https://www.youtube.com/watch?v=h8OVXG2GhpQ
————————–—————
DØRENE ÅPNER: 18.00
ARRANGEMENTET STARTER: 19.00
Billetter selges i døren: 70,- (50,- for studenter)
————————–—————
OM DOC LOUNGE OSLO:
Doc Lounge Oslo har fra Februar 2016 månedlige dokumentarfilmvisninger. Arrangementene er lagt til første tirsdag i måneden på Caféteateret. Vi ønsker å lage inspirerende kvelder basert på gode dokumentarer, med tilskudd av musikk, underholdning, foredrag, forestillinger eller utstillinger.
mer info:  https://www.facebook.com/docloungeoslo/