«To The Would Be Father And The Would Be Brother»
and
» I AM NOT DECIDING»
two theatre performances by:
BOOKHOUSE BOYS (Jo Hellier and Maritea Dæhlin)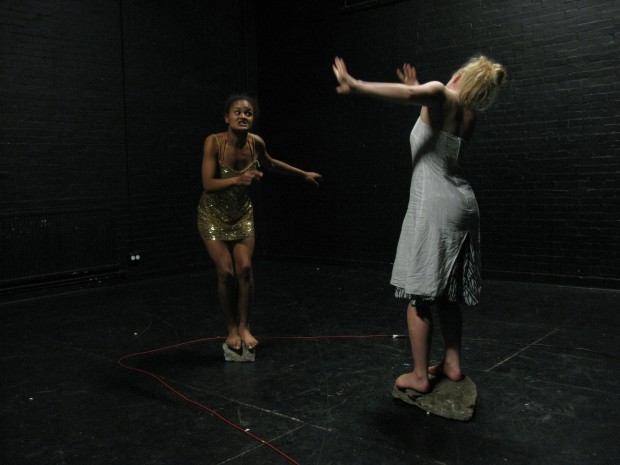 30th, 31st October and 1st November
19.30 hrs
100kr (80kr students/scenekort)
Book tickets: info@bookhouseboys.co.uk
BOOKHOUSE BOYS present a night of two performances that represent different lines of research into loss, limbo and liminal spaces. Fresh from a one month residency at EDIFICIO in Lisbon and to weeks at Falmouth University, BOOKHOUSE BOYS will share their current work in process: I AM NOT DECIDING after showing their graduate piece To The Would Be Father And The Would Be Brother. Feedback will be welcomed at the Q&A following the performances.
To The Would Be Father And The Would Be Brother
A 50kg rock
A microphone
Two women
A golden dress.
"I am scared of losing control and dying, I am scared of thinking it is only a night sleep a rest a short break and then stop forever therefore I don't sleep I stay awake in control of my breath of my heartbeat of my thoughts of my cells of my urine of my arms of my legs scared of losing control and dying but I cannot hold this forever."
…and this song is called…. always forever together baby…
Two women stand together on a rock in the middle of nothingness. Together they navigate through the very nature of their existence including the inevitability of death. The two women's relationship, sometimes distant – sometimes connected, takes the audience to the isolation of outer space and the intimacy of a sultry nightclub. Both mesmeric and raw, the show exists in a liminal landscape between absence and presence, balancing surreal, ironic representations of narrative with injections of raw, tangible emotion.
"…and this song is called rock star sister…."
The final song is just an attempt to sing. A friendly voice from behind the curtain offers her last psychoanalysis. The weight of the rock flattens a body, still breathing. Together they wait.
I AM NOT DECIDING
BOOKHOUSE BOYS have been conducting research into the concept of 'being lost' as a mental, emotional or physical state. They begin their inquiry in retirement homes, being interested in the quality of liminal space present in the homes, their
timeless nature and the confusion they pose; placed in relation and in opposition to
our generation being the target of a continuous flow of new input. I AM NOT DECIDING plays with the atmospheres and languages they
provide.
I AM NOT DECIDING is supported by EDIFICIO Residency, Falmouth University and Kulturetaten i Oslo.
The Company:
BOOKHOUSE BOYS is a two-woman experimental theatre company established by Maritea Dæhlin and Jo Hellier during their Devised Theatre Degree Course at Dartington College of Arts (2010).
Our passion lies in making performance work that absorbs and reflects popular culture, base emotion and personal experience. Starting with uncertainty, we look at what is 'human instinct' and allow a world to develop that travels out of our hands.
For more info visit: www.bookhouseboys.co.uk
Contact us: info@bookhouseboys.co.uk