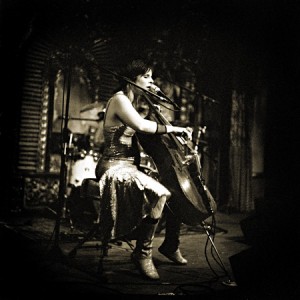 fredag 7. oktober – kl 20.00 (konsert begynner kl. 21)
billetter: kr 100
Global Oslo Music i samarbeid med Nordic Black Theatre presenterer denne unik artist, Bonfire Madigan i konsert på Cafeteatret – som en del av Artist in Residence 2011 prosjektet
www.globaloslomusic.com

Starting on cello at the age of nine, Madigan Shive began her composing career at fifteen in the Pacific Northwest Riot Grrrl scene releasing music with seminal independent record labels K and Kill Rock Stars. Shive has gone on to establish herself as a singular and trailblazing performer, blending folk, art, punk, classical and avant-baroque styles. Her albums include Sew True, …from the Burnpile,Saddle the Bridge, Plays for Change, and the recently reissued I Bleed: a Decade of Song; she is currently finishing her sixth full-length album, to be released in collaboration with her label, MoonPuss Music.
Shive has collaborated onstage and in studio with artists as diverse and influential as iconoclastic music producer Hal Willner (Lou Reed, Marianne Faithfull, Allen Ginsberg, Laurie Anderson), Joan Jeanrenaud (Kronos Quartet), David Coulter (The Black Rider, The Pogues), Kimya Dawson, Neko Case, Cat Power, Gossip, Fugazi, The Good, the Bad and the Queen, Jolie Holland, Slovenian industrial-music-theater artists Laibach, Finnish chamber-metal showmen Apocalyptica and Academy Award nominee Elliott Smith.
Shive's music can be heard in films including Better Luck Tomorrow, But I'm a Cheerleader,Chain Camera and Crooked Beauty. Commissions include prepared solo cello suites for San Francisco Grace Cathedral's Vigil of Light, live score written and performed for the American Conservatory Theater's season finale 'Tis Pity She's a Whore, London's Barbican HallTwisted Christmas program, the score and starring role in the experiMental silent filmTransliminal Criminal, an original recorded score for Shakespeare Santa Cruz's 2010 production of The Lion in Winter as well as composer and collaborative musical director for Los Angeles' 2010 Getty Villa theater production of Elektra featuring Olympia Dukakis.
She is a contributing author to the anthology Live through This: On Creativity and Self-Destruction (Seven Stories Press), sharing company with bell hooks, Nan Goldin, Kate Bornstein, and other creative pioneers. She is a founding collective member of The Icarus Project, a grassroots support and media network led by people living with experiences commonly labeled «mental illness.»
In the invisible republic built on the soul of the blues, the riot of punk, the playfulness of burlesque, and the sophistication of the orchestra pit, Bonfire Madigan Shive plies her trade. She and her cello are fashioning a new and desperately necessary approach to the hoary contours of the singer-songwriter and the composer. Her songs are ballads of resistance, hymns to liberation, string suites for the ramblers, rebels, and raconteurs of a new splintered century. Raucous and delicate, aggressively progressive, she moves subtly, seamlessly across the music you think you know and the music you never dreamed of. — Nathan Salsburg, Alan Lomax Collection, NYC
BMad band mates and intermittent collaborators have included: Jonathan Egg Hughes, Shawn Biggs, Shelley Doty, Tomas Palermo, Emily Palen, Aurisha Smolarski, Eliana Fiore, Joan Jeanrenaud, Jolie Holland, Matt Lucich, Ashley Adams, David Coulter, Tara Barnes, Ralph Carney, Elliott Sharp, Zef Noise, Sheri Ozeki, Christine Lehmann, Carla Kihlstedt, Chan Marshall, Spazecrafte1, Jane LeCroy, Elliott Smith, Laura MacFarland, Carey Lamprecht, Jake Rodriguez, Thalia Zedek, Kid Lucky, Sunshine Haire and more.