Art Talks er en arena der publikum møter og har en åpen dialog med norske og internasjonale artister.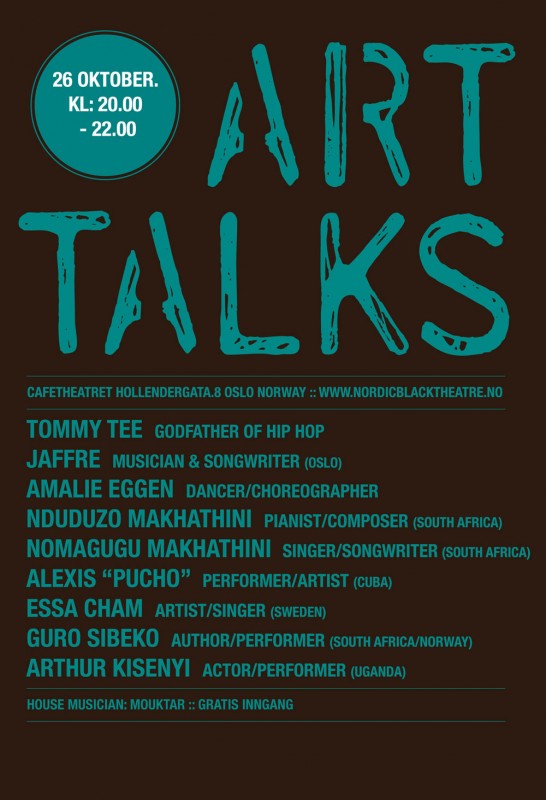 om konseptet:
Art Talks Redaksjonen inviterer dansere, musikere, produsenter, forfattere, grafittikunstnere, you name it, til Cafetheatret.
I et kort live-intervju forteller Kunstneren om sin kunstform, og viser litt på scenen. Deretter åpnes det for dialog mellom publikum og kunstneren – Its kind of like a live featurette. The art is alive, and talking!
Denne Art Talks session, onsdag 26.oktober, inviterer vi:
– Tommy Tee -> (Norways Godfather of Hip Hop)
– Jaffre -> (musician from Oslo)
– Amalie Eggen -> (dancer/choreographer/hiphop film showcase)
– Nduduzo Makhathini -> (pianist/composer/producer from South Africa)
– Omagugu Makhathini -> (singer/songwriter/music teacher from South Africa)
– Alexis «Pucho» -> (performer/painter from Cuba)
– Essa Cham -> (artist/singer from Sweden)
– Guro Sibeko -> (author/performer from South Africa/Norway)
– Arthur Kisenyi -> (actor from Uganda, working with norwegian project www.strange-news.info)