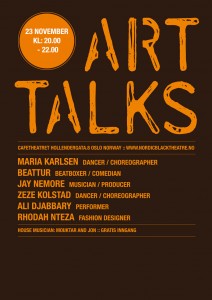 Arttalks November edition!
The fantastic arttalks returns to Cafeteatret. Artists are interviewed, take questions from the audience and then perform!
The artist gets closer to the audience, the audience gets closer to the artist!
This time we have:
Maria Karlsen – dancer/choreographer
Beatur – Beatbox champion from Iceland (and Comedian)
Jay Nemor – Musician / Producer
Zeze Kolstad – dancer / choreographer
Ali Djabbary – performer
Rhodah Nteza – fashion designer
from kl. 20.00 / 8pm
until ca kl. 22.00 / 10pm (ish)
with music in-between from Prince Mouktar Doumbouya and Jon Eeg Henriksen
Free Entrance!