Uppsala guest writer hosts Creative Writing Literary Workshops – September 2012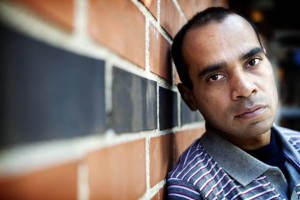 Uppsala guest writer, Anisur Rahman, will return to Cafeteatret, Oslo to host Creative Writing Literary Workshops at Nordic Black Theatre in September 2012
Writing is a love letter to the times
Writing is to tell the mind
Anisur Rahman, Ibsen translator, poet and journalist from Bangladesh, and previously Uppsala City of Refuge's Guest Writer, will continue to host a series of 4 workshops starting on September 4, 2012. Each workshop will also feature one Norwegian author as a guest. Participants of the workshops will attain an orientation on how to develop ideas, how to judge one's own writing, how one could become a critical reader aiming to be a writer, and on making writing a career. He introduced this at Nordic Black Theatre in September 2011 which was a great success.
The workshops in Oslo on creative writing will focus on the following basic questions, and also provide necessary pointers and observations to encourage Oslo talents in the mission of literature:
How is writing a love letter to times?
Am I talented enough?
How should I educate myself?
Can I make a living from writing?
How can I know if I am really a writer?
How can one tell the mind in writing?
Anisur Rahman says: "When a talented person can know him or herself as a writer, they will have nothing to be worried about in the survival of their committed mission of writing. I am hopeful and convinced that this workshop will meet with this challenge".
Invited guest authors will speak and share ideas about their own writing and on becoming a writer, while also focusing on basic technique and considerations of writing poetry, novel, short story, essay, drama and journalistic pieces.
At the end of workshops, there will be hosted the second Nordic Black Theatre International Poetry Festival featuring published and unpublished poets from Norway and other countries notably Bangladesh, Denmark, Estonia, Finland, Kenya and Sweden.
A literary anthology featuring the contributions from participants and guests in the workshops and festival will also be published afterwards. From the first workshops in 2011, we published an anthology, WORDS AFTER LINES.
This can be downloaded as a PDF here
Free entrance; All are welcome.
Language: English and/or Norwegian
Venue: Nordic Black Theatre & Cafeteateret, Hollendergata 8, Oslo
Time: 17.00-1930
Every Tuesday from September 4, 2012 till September 25, 2012.
Hosted by Nordic Black Theatre and Networkers South North
Kontakt:
Dominic Wilson
dominic@nordicblacktheatre.noMore information:
www.nordicblacktheatre.no
www.anisur.net