Agenda-X presenterer:  To little To late, et litt anderledes show!
torsdag 24. nov & fredag 25. nov
kl. 19.00 kr 100/50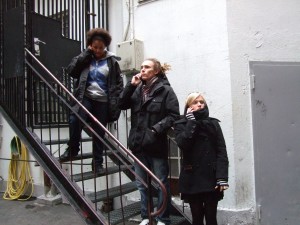 Forestillingen er regissert av Taro Cooper og Mine Nilay Yalcin.
Et kveldshow bestående av sketsjer satt sammen til en kolage.
I forestillingen presenteres en rekke temaer med humoristisk vridning:
Hvordan sjekker du opp jenter på toget? Hvordan er egentlig drømmemannen? Og hvordan var den historen om de tre bukkene bruse igjen?
Skuespillere i forestillingen er Maja Hansen, Junaid Khan, Ahmad Tobasi, Anna Enore Bratberg og Taro Vestøl Cooper.