FilmAfrikana 2012 – tors 29. – lør 31. mars 
Thursday 29 March 2012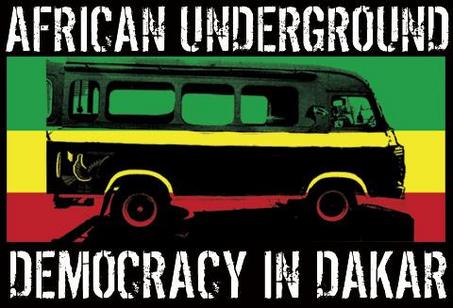 1800 – 2000
African Underground: Democracy in Dakar
69 min
is a groundbreaking documentary film about hip-hop youth and politics in Dakar Senegal. The film follows rappers, DJs, journalists, professors and people on the street at the time before during and after the controversial 2007 presidential election in Senegal and examines hip-hop's role on the political process. Originally shot as a seven part documentary mini-series released via the internet – the documentary bridges the gap between hip-hop activism, video journalism and documentary film and explores the role of youth and musical activism on the political process» http://nomadicwax.com/democracyindakar/
Followed by a panel discussion
Friday 30 March
1800 – 2000
White Wedding
Ayanda (Zandie Msutwana) is just days away from her lifelong dream of a modern 'white wedding,' complete with a dazzling dress, dozens of bridesmaids, a flamboyant wedding planner and large reception at a fancy hotel. The only problem is that her husband-to-be, the sweet, committed Elvis (Kenneth Nkosi), is 1,000 miles away with his childhood friend and best-man Tumi (Rapulana Seiphemo).
What should be a simple, straightforward journey gets seriously derailed, forcing Elvis, Tumi and Rose (Jodie Whittaker), a footloose English doctor they meet along the way to tackle directional mishaps, car accidents, a tag-along goat, and a potentially dangerous encounter with a bar full of redneck Afrikaners seemingly stuck in the era of Apartheid. Ultimately charmed by Elvis' infectious spirit, everyone surrounding him becomes determined to get him to his destination.
Meanwhile, poor Ayanda is watching her dream unravel as she wrestles with problems of her own — from questioning whether there's any truth to Elvis' preposterous excuses of why he might not get to the church on time, being caught between European and African traditions as her mother (Sylvia Mngxekeza) has a very different idea about how the wedding should be orchestrated, and dealing with the unexpected arrival of Tony (Mbulelo Grootboom), a slick old boyfriend with a questionable agenda.
Followed by:
Mimmi Tamba in Concert
Saturday 31 March
1700 – 1930
From A Whisper
Dir.Wanuri Kahui, Kenya, 100 min, English/Kiswahili, English text
Abu (Ken Ambani) is a quiet and hardworking intelligence officer who keeps to himself. When he meets Tamani (Corrine Onyango), a young, rebellious artist in search of her mother, he decides to help.
Unknowingly, Tamani churns up memories of Fareed (Abubakar Mwenda), Abu's best friend who also lost his life in the US Embassy bomb blast 10 years ago. The discovery about the death of Tamani's mother, forces everyone involved to learn how to forgive, deal with their own faith and confront what they fear the most – The truth.
From A Whisper, features a soundtrack by Eric Wainaina.The film is based on the real events surrounding the August 7 bombings on the US Embassy in Nairobi in 1998