NORSK
Empty Frame presenterer utstillingen «Narsissismens prins» av Jon Arne Berg /Jab, som er et ungt kreativt talent innen illustrasjon og grafisk design.
Hvor: Cafeteateret ( Hollendergt. 8 Oslo )
eller online på emptyframe.org
Når:    Onsdag 18 april. Kl 19:00-20:00 utstillings åpning
Kl 20:00-22:30 Art Talk med Jab og flere.
facebook event: http://www.facebook.com/events/357547777622105/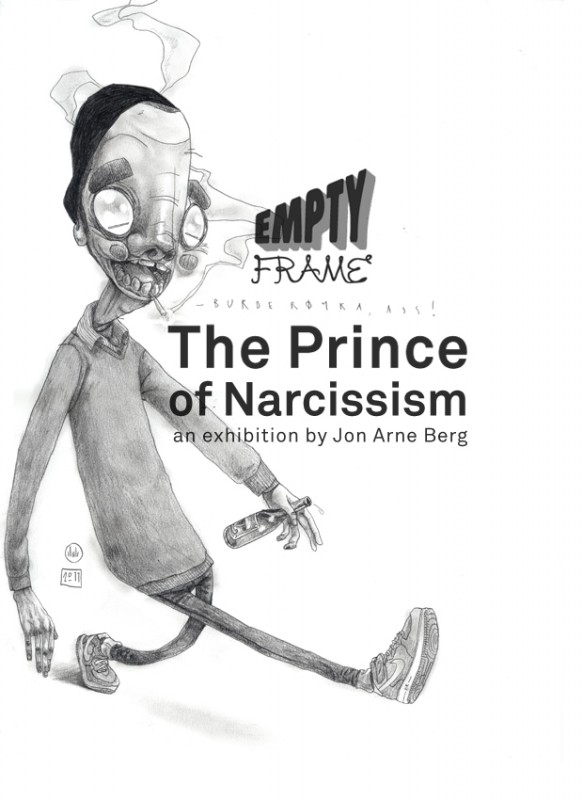 Jab er straks ferdig med sin bachelor i visuell kommunikasjon på Kunsthøgskolen i Oslo, og er et friskt pust inn i bransjen. Han elsker å tegne, men vet nesten aldri hva. Likevel har han alltid med seg et par skissebøker i sekken.
Med utstillingen «Narsissismens prins» viser Jab hvordan han har utviklet stilen gjennom selvportretter han har laget de siste årene. Han har en leken strek og prøver hele tiden å utforske nye stiluttrykk. Alle portrettene er unike og har en historie – de gjenspeiler hans daværende sinnsstemning eller bare en hendelse på en fascinerende måte.
Det blir mulighet for kjøp av utvalgte portretter på emptyframe.org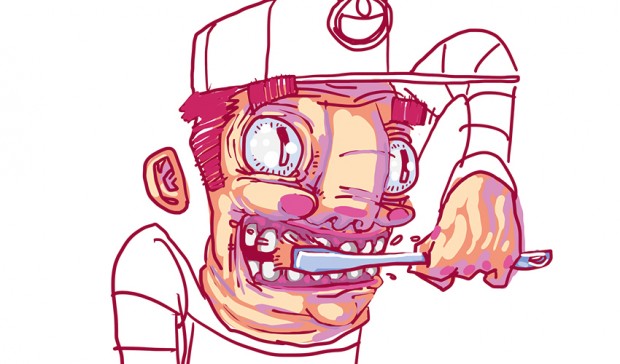 Jab har blant annet gjort jobber for Johnny Leave Home, Slakkline og Westerdals. Han vant Gullkalven i kategori illustrasjon i 2010.
Det blir spennende å følge han i årene som kommer.
Lenker:
Empty Frame >>http://emptyframe.org/
Jab >> http://jonarneberg.no/
Cafeteateret >> http://nordicblacktheatre.no/
_____________________________________________________________
ENGLISH
«The Prince of Narcissism» an exhibition by Jon Arne Berg
Empty Frame presents «The Prince of Narcissism» an exhibition by Jon Arne Berg / Jab, a young, creative, talented graphic designer and illustrator from Oslo, Norway.
Where: Cafeteateret ( Hollendergt. 8 Oslo )
or online at emptyframe.org
When: Wednesday 18 of april. 19:00-20:00 exhibition opening followed by Art Talk from 20:00-22:30 with Jab and more
Jab is just finishing his bachelor degree in Visual Communication at the Art Academy in Oslo, and is a fresh input to the design industry. He loves to draw, and always carries a couple of sketchbooks in his backpack.
With the exhibition «The Prince of Narcissism» Jab shows how he developed his style through self-portraits over the last few years. He has a playful pencil line and is constantly trying to explore new styles. All portraits are unique and have a story – They reflect a state of mind or a situation in a fascinating way.
Some of Jab clients are Johnny Leave Home, Slack Line and Westerdal. He won «Gullkalven» in the category illustration in 2010.
It will be interesting to follow him in the years to come.
Links:
Empty Frame >>http://emptyframe.org/
Jab >> http://jonarneberg.no/
Cafeteateret >> http://nordicblacktheatre.no/