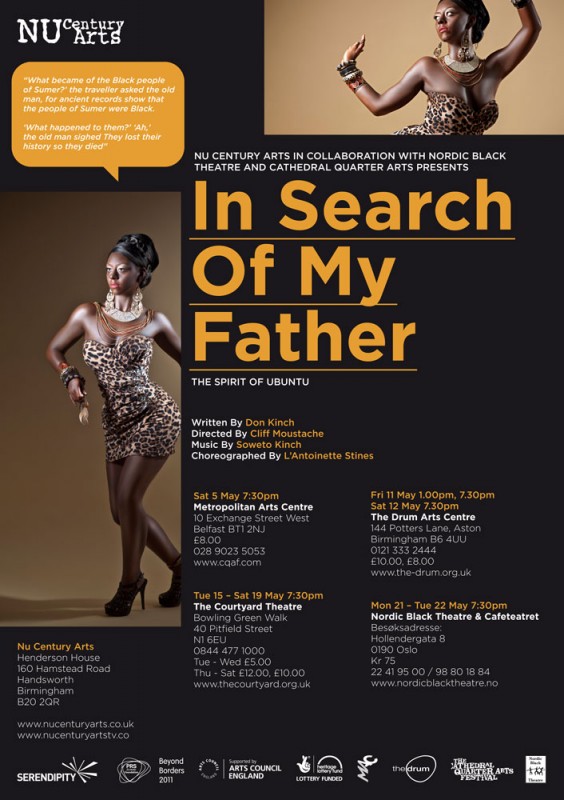 Nu Century Arts i samarbeid med Cathedral Quarter og Nordic Black Theatre presenterer:
«IN SEARCH OF MY FATHER»
Av: Don Kinch
Regi: Cliff A. Moustache
Musikk: Soweto Kinch
Koregrafi: L'Antionette Stines
medvirkende: Victor Romero Evans, Toyin Omari-Kinch, Sharnpal Jeetley, Pardip Kumar, D'Bi.Young, Janet Kay, Andrea Queens, Robert Eugene og Lenny Algernon-Edwards
Forestilling vises i London, Belfast, Birmingham og Oslo på Cafeteatret – man 21. og tirs 22. mai
Den anerkjente forfatteren Don Kinch av Nu Century Arts, best kjent for sine skuespill som The Balm Yard og Not Quite Gospel har ført sammen et internasjonalt kreativt team til sin nye produksjon «In Search of My Father».  Den legendariske jamaicanske koreografen Dr L'Antoinette Stines har satt jamaicanske 'Kumina' dans til energisk musikk komponert av Mobo prisbelønte Soweto Kinch. Stykket er regissert av Cliff Moustache fra Nordic Black Theatre.
I forestillingen Marisol som har gitt opp sin godt betalte jobb for å dra til Jamaica hvor hun prøver å finne en karibisk mann hun kan få et barn med. På sin reise møter hun Sambhota, tidligere eier av en 'dancehall',  som har solgt alt og nå venter på dronningen sin, og Eugene Williams MP, en debonair jamaicansk forretningsmann og politiker. In Search of My Father søker til fortiden for å kaste lys på det majestetiske ved den sorte kvinnen gjennom teater, fortryllendedans og stemningsfull musikk.
Don Kinch
Barbados fødte Don Kinch har vært en respektert dramatiker og regissør i over tjue år. Han etablerte StaunchPoets and Players og Third Dimension Theatre Compnay.  I Birmingham etablerte han sammen med sønnen hans Nu Century Arts i 2000.
Soweto Kinch
Siden hans debutalbum  «Conversations with the Unseen» i 2003, har han plukket oppen rekke priser, blant annet; BBC Radio Jazz Award for beste instrumentalist og Ensemble, Urban Music Award for beste jazz Act, en MOBO award  for beste Jazz Act, og en Mercury Music Prize, «Album of the Year» i 2003.
L'Antoinette Osunide Stines
er kunstnerisk leder og grunnlegger av L'Acadco Aforente Caribbean Dance Force, Daaancer\s HUT og WOW Productions. Stines er spesielt anerkjent for sitt arbeid som koreograf, teknikk professor og lærer. Hun foreleser internasjonalt på de tradisjonelle danseformer som Kumina, Brauckins, Nyahbingi, Dancehall og moderne dans syntesen L'Antech.
Cliff A. Moustache
Født i Seychellene, Cliff tok sin scenekunst- og kunstdannelse i England. Kort tid etterpå flyttet han til Norge og har jobbet med scenekunst og ungdomsarbeid siden.  Cliff grunnla Nordic Black Theatre i 1992 og er fortsatt kunstnerisk leder.  Cliff har jobbet som regissør i Scandinavia, Zanzibar, Kina, Vietnam og mange andre land.