CD-LANSERINGSKONSERT BILLUCA ENSEMBLE
Caféteatret tirsdag 23. oktober
Kl. 19:30
Billetter: kr 150,- / 100,- (stud/barn) (Konsertbillett + CD: kr 200)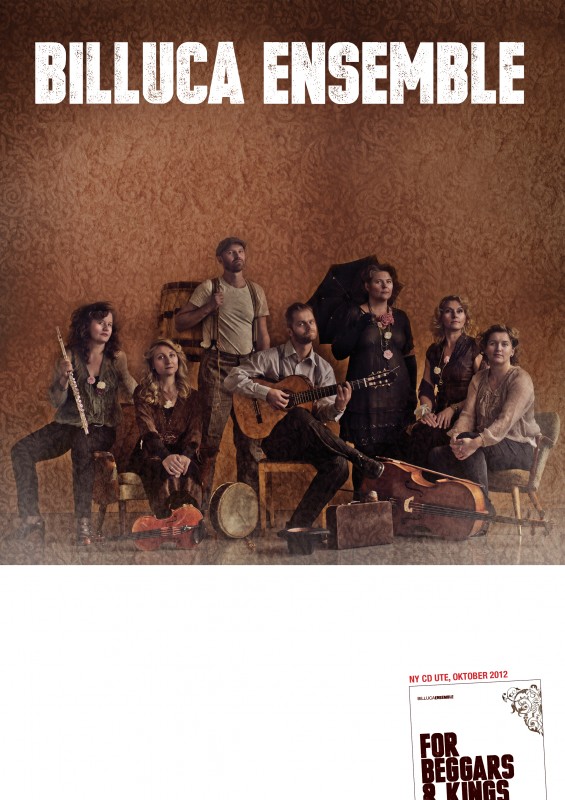 Billuca Ensemble slipper ny og overraskende plate på Øra Fonogram i begynnelsen av oktober. Tirsdag 23. oktober markeres dette i Oslo med konsert og tirsdagsfest i Caféteatret. Forvent en uformell konsertforestilling med stort spenn, mangfoldig tidskoloritt og uventede vendinger.
Billuca Ensembles debutalbum byr på kammermusikk med en leken tilnærming. Ensemblet har resirkulert musikk og tekster som spenner over en periode på nesten 500 år – fra 1500-tallet til 2012. Musikk av barokkkomponister som Dowland, Purcell og Händel er rekomponert eller tolket på nye og personlige måter, mens poesi fra 1500- og 1800-tallet har fått nytt tonefølge komponert av Martin Smidt. Billucas kammersound rommer både poetiske stemninger, rufsete groover, meditative melodier og utadvendt formidling, noe som også er uttrykk for musikernes mangfoldige bakgrunn – i ensemblet er det for eksempel tidligere Spellemanns- og Alarmprisvinnere/-nominerte fra kategoriene klassisk musikk, åpen klasse, jazz og pop.
Billuca Ensemble består av
Hege Stokstad – vokal, Kristina Olsen Smidt – vokal, Tone Sand – fløyter, Guri Krog Dodig – bratsj, Anne Lise Fagerli – cello, Frode Dyrli Angelsen – gitar/lutt, Martin Smidt – trommer/perkusjon
I fjor turnerte ensemblet både i Norge og Nederland, og de vakte positiv oppsikt på Amsterdams store festival for klassisk musikk, Grachtenfestival. På den nye plata og slippkonserten hopper de bredere og høyere både med hensyn til musikksjanger og formidlingsform enn før, og det blir opptil flere urframføringer. Produsenter for plata er Jostein Ansnes og Trygve Brøske.
Vi ønsker deg som lytter velkommen til Billucas kammers, med gamle og nye minnespor, sanger og skatter vi har funnet og brukt på vår måte.  Og hvis du spør: «Når og hvor er all denne musikken fra, egentlig – og for hvem?» Da har vi ikke noe nøyaktig svar. Det er musikk.
«Love is love in beggars and in kings.» John Dowland
Håper vi ses og høres 23. oktober!
Mer informasjon om ensemblet og konserten, se
https://nordicblacktheatre.no/?p=6686
CD-utgivelsen er støttet av Trondheim kommune
Turneen er støttet av Fond for Utøvende Kunstnere
English version:
Billuca Ensemble's debut album features chamber music with a playful attitude: The ensemble have recycled music and poetry spanning a period of nearly 500 years – from the 16th century to 2012. Songs by baroque composers like Dowland, Purcell and Händel are recomposed or interpreted in new and personal ways, and poems from the 16th and 19th centuries are borrowed into Martin Smidt's contemporary compositions. Billuca's chamber sound consists of poetic moods, rough grooves, meditative melodies and informal mediation. This is also a result of the diverse background of the musicians, some of whom are former winners of the Norwegian Grammy award in categories like classical music, crossover music, jazz and pop music.
The album "For Beggars and Kings" is published by Øra Fonogram and produced by Trygve Brøske and Jostein Ansnes.
We wish you as a listener welcome to Billuca's chamber, with old and new memory tracks, songs and treasures we have found and used in our own way. And if you ask: "From what time and from where does all this music really stem – and for whom was it composed?", then we have no exact answer. It is music.
«Love is love in beggars and in kings.»          John Dowland