By the pricking of my thumbs, something wicked this way comes…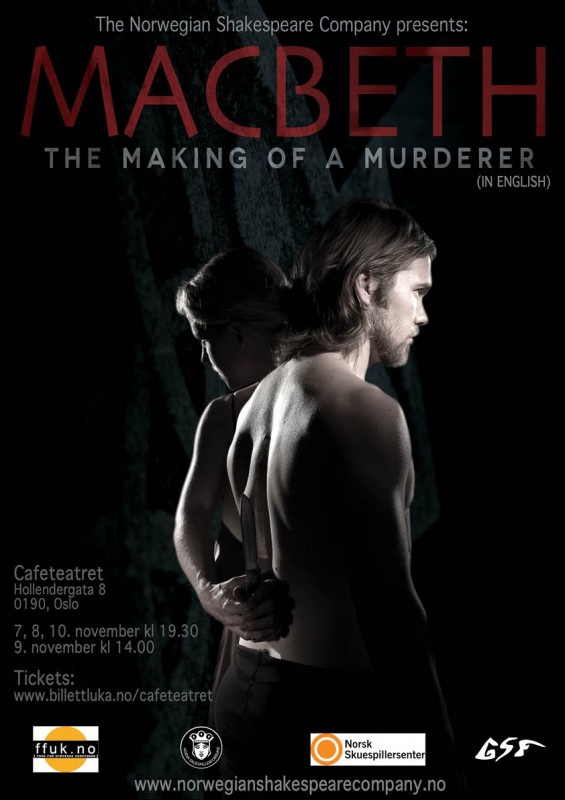 Cafeteatret
7th, 8th and 10th November at 19.30
9th of November at 14.00
billetter: kr 200/150 + bill. avgift
Booking: www.billettluka.no/cafeteatret
Director: Alfredo Michelsen Cast: Brage Bang, Elisabeth Dahl and Sveinung Oppegaard
Music: Terje Evensen, Scenography and props: Vanja and Richard Jordan
The Norwegian Shakespeare Company joins forces with Colombian director Alfredo Michelsen in staging the darkest and most infamous of Shakespeare's works, referred to in hushed whispers as "the Scottish Play". To mention the true title is said to bring terrible misfortune…
Violent and physical, stripped down to just three actors and the very bones of the text, we will explore the darker side of man and expose the face of evil. How does a man go from being a well respected and good natured citizen to a remorseless mass murderer?
In Macbeth, Shakespeare takes us from the tragic to the comic, from the blood, bones and gristle of the battlefield, to the petty pace of domestic life, exploring on the way the undercurrents of human relationships and our potential for "murder most foul…"
By using the original language, none of Shakespeare's timeless poetry and insight is lost in translation.
Weary from years on the battlefield, Macbeth returns home to his loving wife as a conquering hero. But Lady Macbeth is bored and childless, and her husband is hungry for power. Their domestic bliss is short-lived. Wouldn't life be much more fun if they were King and Queen of Scotland? Lady Macbeth pushes her husband towards greatness with skills of manipulation that would make Hedda Gabler look like Snow White. All that stands between them and their vaulting ambitions is just a few moral scruples and a king that is very much alive!
For more info, visit: www.norwegianshakespearecompany.no
Life's but a walking shadow, a poor player / That struts and frets his hour upon the stage,
And then is heard no more. It is a tale / Told by an idiot, full of sound and fury, / Signifying nothing.
(Macbeth Act 5, scene 5) ,