LatinOSA, Alexistyle and Club Clave proudly presents:
RETRO Salsa Night Fever Party & Bootcamp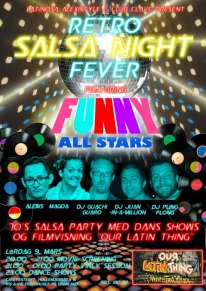 Lørdag 9. Mars
Cafeteateret
Hollendergata 8, Oslo
på Grønland (vis-a-vis Politihuset)
70′ RETRO Salsa Night Fever med filmvisning «Our Latin Thing» og danseshows
20.00 – 21.00 – «Our Latin Thing» filmvisning
21.00 – 01.00 – Salsa Night Fever Party
23.00 – danseshows
Party dresscode: 70's
Music by super retro DJs: Guachi Guaro, Pling Plong & Juan-in-a-million
The best of salsa, mambo, charanga, cha cha, salsa, son montuno, guaguanco y bolero etc.
Price – 180 kr.
About the movie «Our Latin Thing»
In 1971, on the evening of August 26th, the Fania All-Stars performed at the landmark Cheetah club in New York. This was a key moment in salsa history, with some of the finest salsa musicians of the era performing extensive jams and pieces that later became salsa classics.
This unique documentary was the project of Fania founder Jerry Masucci, who had movie cameras filming the concert, setting up the foundation for a feature length movie documenting the growing salsa movement of the 1970s.
RETRO Bootcamp with Alexis & Magda
Dance classes:
12.00 – 13.00 Boogaloo
13.10 – 14.10 Cha cha cha shines 7 groove
14.20 – 15.20 Cza cha cha partnerwork
Prices:
RETRO pass – 600 kr. (Bootcamp + Fimvisning + Party)
BOOTCAMP pass – 450 kr. (3 dance classes)
Drop in – 200 kr.
Payment:
There is no need to register for Retro Bootcamp:) You can buy all passes with CASH by the door.
Unless you wish to pay by bank transfer – please use the following data:
Bank account number: 1202.37.28735 Magdalena Prichodko
Transfer description: YOUE NAME and «RETRO»
Please bring the transfer confirmation with you!