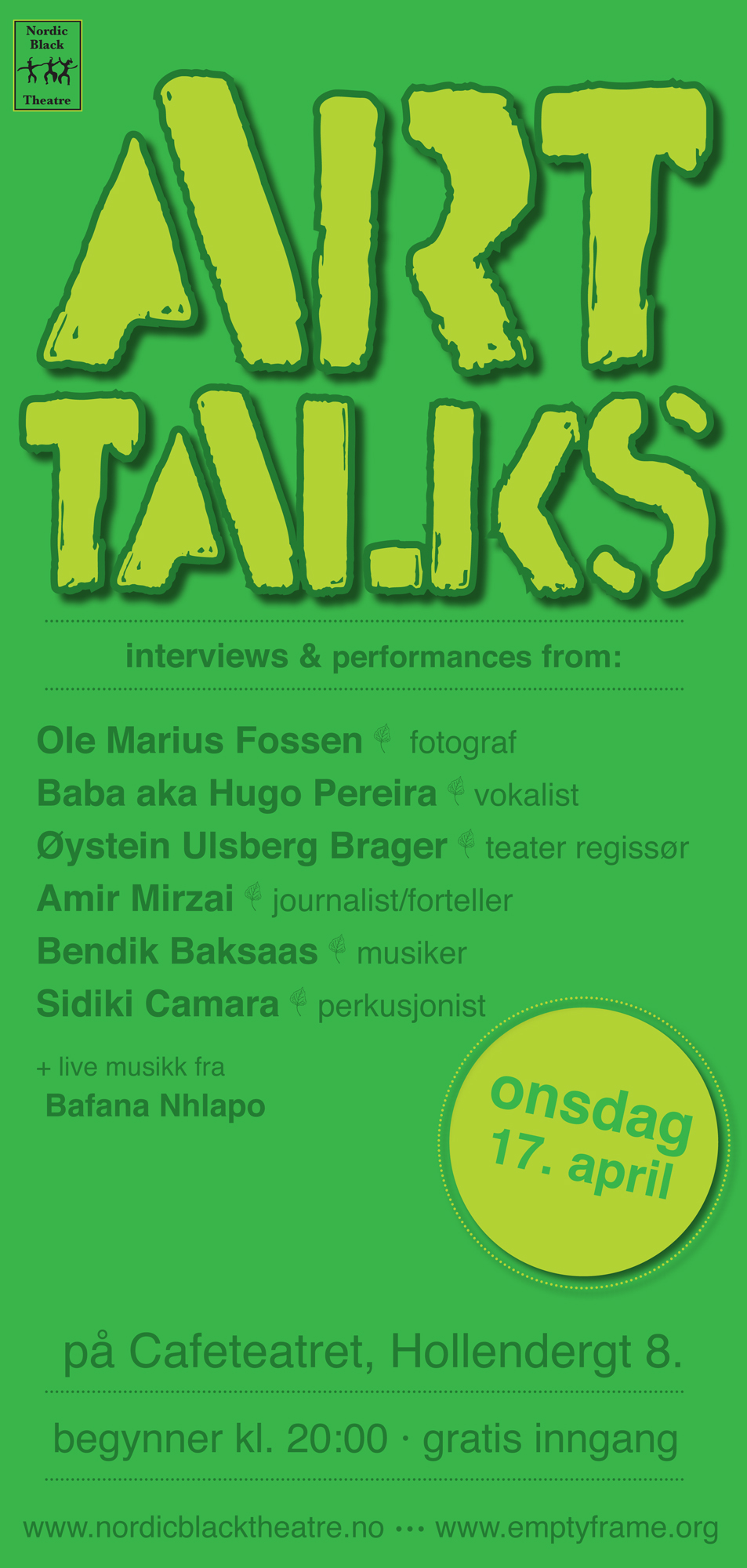 Arttalks 17. april by på seks spennende gjester! alle blir intervjuet og gir en smak av hva de driver med på scenen.
Ole Marius Fossen – fotograf – han har utstilling på Cafeteatret fra 17. april, på arttalks snakke han om utstillingen og hans arbeid som fotograf olemariusfossen.tumblr.com
Baba Soul – Oslos James Brown! Baba synger soul og funk med bandet hans «The Professors of  Funk»
www.babasoul.com
Øystein Ulsberg Brager – teater regissør og kunstnerisk leder av «Imploding Fictions» har regi av en unik teater opplevelse «The Predictions» på Cafeteatret lørdag 13. april  Info fra Trafo
Amir Mirzai – Forteller, forfatter og journalist, Amir har jobbet som spaltist, har oversatt iransk fortellinger til norsk og har til og med vært på turne med Princesse Martha Louise…
www.amirmirzai.no
Bendik Baksaas – med en del erfaring som bandmusiker bak seg, Baksaas begynnte å fremføre sin egen musikk med liveband i 2011. Med forbilder som J Dilla, John Coltrane, Michael Jackson og Patrice Rushen, er musikken eklektisk! Han gir ut ny plate på 18. april (dagen etter!)
Info Bendik Baksaas Band
Sidiki Camara – en av Malis ledende perkusjonister og en av skaperne av den moderne bølgen av afrikansk Manding-musikk.  Sidiki har en utrolig lang CV strødd med alle de store navne innenfor vest afrikansk musikk, men også jazz og reggae. www.sidikicamara.com
Vernissage for Ole Marius Fossens utstilling begynner kl. 19:00
ARTTALKS begynner kl. 20:00 og inngang er gratis
– har du ikke mulighet å komme til Cafeteatret kan du få det med deg live på web!
Klikk her >>>>>>>>>>>>>>>   http://www.ustream.tv/channel/art-talks  <<<<<<<<<<<<<<<<
Cant reach Cafeteatret tonight for arttalks? click on the link above to watch it live on the web!