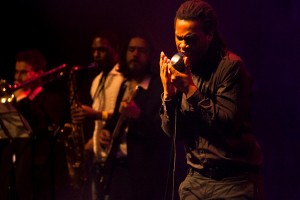 tors 2. mai
Konsert: Baba Soul & Professors of Funk kl. 21:30 – kr 80
«Oslos James Brown» Baba Soul med fullt band
DJs før og etter…
Bursdagsextravaganza for Baba!!!  Du trenger ikke å komme med gave – bare kjøp billett!
www.babasoul.com
Baba Soul, aka Hugo Pereira Castro, a twenty six-year old aspiring artist from Lisbon, Portugal, currently living in Oslo. Baba started singing in 2004 working with fellow musicians from Lisbon like rap and r'n'b group Manosquad, Baba Bhuda e Conexao and Soul Fresh. Since 2010 he has moved no to funkier ground, having founded a live band project that today has developed into Baba Soul and the Professors of Funk. Together they are a fiery 7 piece ensemble who provide a furious Funk Soul experience reminiscent of the oldschool days, however, with a unique modern flavour and blend of styles.
There is no limit to what style Baba can enjoy performing or listening to, and he is one of the few young talents who doesn't fall into the trap of unoriginal ventures trying to copy yersterday or today´s big stars of R & B and Pop. Baba's heart and soul is first and foremost focused on authentic vocal performances backed up by innovative, unrestrained soulful acts with roots and influences coming from the wide range of Afro musical traditions such as Blues, Rock n Roll, Gospel, Soul, Funk, Hip-Hop as well as from others like Reggae, Dancehall, Afrobeat and Zouk.
The uniqueness of Baba's talent is his free approach, playfulness and willingness to explore different ways of expressions. Combined with his ambition, passion and dedication to the music, Baba´s heartfelt and seductive performances will conquer audiences around the world and bring a new voice and sound to the music of today.