Global Oslo Music 2008-2013: Thousands of artists from across the country and abroad
-It's time to celebrate!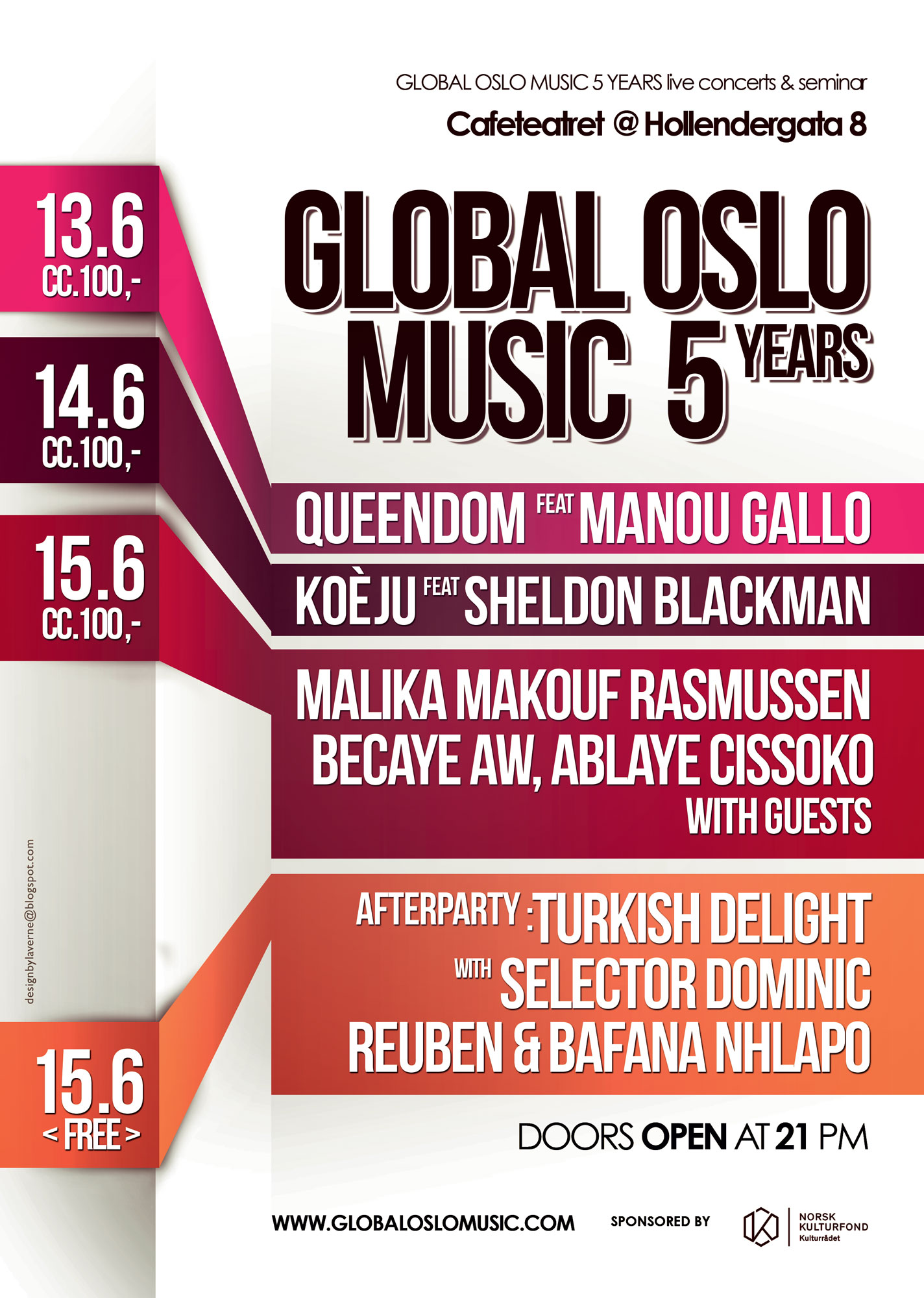 Queendom offers spectacular live concerts with a concious and positive message. Through energetic music, slam-poetry and strong vocal harmonies, this performing arts collective aims at entertaining audiences in in a humourous and intelligent way. Queendom has developed a unique sound based on their musical heritage – from blues and soul, to highlife, reggae, afrobeat and slam poetry. This is all highly present in their debut album Still rising – www.queendom.no

Manou Gallo grooves just for the fun on afrobeat rhythms or dreams of a place among the stars (in heaven). The small girl of Divo was shocking the village people when she played the traditional drums, today she is the woman with a Drum. She looks after Marcelin Yassé, her mentor, her father, her talisman. "The belief in tradition mustn't prevent you from going ahead" says Manou. And so she embraces the world –
www.manou-gallo.com
Koèju gives you live music – replacing the dj – and is one of Oslo's most innovative and unique musical projects. Koèju has ravaged around clubs in town – to a dancing crowd – offering futuristic impro sessions. There is only one rule that applies in this universe : The music is 100% live, whether it's acoustic instruments or electronic beats! – www.koeju.com
Sheldon Blackman is a musician, singer and songwriter from the Caribbean island of Trinidad and Tobago. His music is best described as "Caribbean heart beat music!" expressions of Calypso, Soca, Reggae, Rapso and Jamoo fused with elements of jazz, blues and urban music. From conception, music has been an integral part of his life. His natural love for music was recognized at an early age and nurtured by the expert hand of his father the late great Ras Shorty I, the creator of the musical genres of "Soca" and "Jamoo" – www.sheldonblackman.com
Becaye Aw is a guitarist, singer and songwriter of the African Fulani (Haal Pulaar) people. Becaye spent his childhood in Dakar, Senegal, and it was here he first laid his hands on a guitar. Becaye is largely self-taught. After learning elementary guitar-technique from a Serere musician, he went on to develop his own style, listening to recordings and to the radio. His African approach to guitar tuning and his way of playing the instrument result in a sound similar to the cora. Becaye began his musical career in Senegal, playing with musicians such as Baaba Maal and Mansuur Seck. He has since then participated in many groups and projects, in collaboration with a variety of musicians – @ Myspace
Ablaye Cissoko is a part of new generation of artists from Senegal. Son of a Griot, living in Saint Louis in Senegal, he incarnates the crossover between Mandinka traditions and contemporary musical creation. With delicacy, grace and intelligence, Ablaye Cissoko passes on the traditional values of his culture, offering a sincere song of love and respect. His kora and vocal recital is an amazing display of musical genius and generosity –
@ Myspace
Malika Makouf Rasmussen is a critically acclaimed composer, musician and music producer and a philosopher. Incorporating a variety of African and Western instruments blended with electronic sounds forms the sole foundation for her music. She has performed extensively throughout Europe and Africa. She has staged numerous festivals and music venues across the world – www.malikamakoufrasmussen.com
Guest musicians Saturday 15th:
Murielle Lantignac – Vocal
Safaa Al-Saadi – Nai & Derboka
Ketil Kielland Lund – Keyboards
Øystein Bergsvik – Drums & percussion
Selector Dominic Reuben is a Roots and Culture DJ, or 'Selector' (reggae jargon), from Kingston, UK. Dominic has collected, played and promoted reggae music and rasta culture for the past twenty years. Since he arrived Norway from the UK, he has initiated a number of club consepts, festivals, gigs and radio programs. He is also the man behind Family Reggae Disco (2005-) that has gained great poupularity in Norway and abroad.
Reuben is considered crucial to the country's fast growing reggae scene.
Bafana Nhlapo is a noted wailer, singer, songwriter and percussionist. Born and raised in the famous township Soweto, with its rich history and culture. His music has a unique and eclectic sound, with elements of funk, afrobeat, traditional South African maskandi, drum and bass, and a hint of rock. With an extraordinary voice and stage presence Bafana Nhlapo is a name to remember. This music is sure to take you on a spiritual journey –
@ youtube
GLOBAL OSLO MUSIC CAREER er vårt siste produkt
Karrieresenteret skal tilby artister i etableringsfasen noen profesjonelle verktøy. Vi starter med et seminar under femårsmarkeringen med fokus på:
• Markedsføring og formidling
• Utforme en tydelig artistprofil
• Hvordan og hvor skaffe seg rimelige og gode design- og webløsninger
• Hvordan sette opp en gratis webside uten design- og programmeringsferdigheter
• Hvor få tilgang til gratis software med gode verktøy for å produsere pr-materiell
• Hvor skaffe god og rimelig trykking av pr-materiell
• Hvordan skaffe egne produkter/merchandise og få disse tilpasset sin artistprofil
• Hvordan sette opp online merchandisesalg
• Tilskuddsordninger / etablering av næringsvirksomhet
• Orientering om tilskuddsordninger og innføring i søknadsskriving
• Orientering om ulike strukturer for å etablere en profesjonell næring
• Orientering om diverse eksisterende arrangør -og musikernettverk samt fagorganisasjoner
Workshop by graphic designer and creative consulant
Laverne Wyatt-Skriubakken
Sted/Tid: Kafe SABA, Hollendergata 10, 18'00-21'00 13. og 14. juni /
Lørdag 15. juni på Kafe SABA, 13'00-17'00 – Fri entré
For ytterligere informasjon om innhold og opplegg, send mail til post@globaloslomusic.com