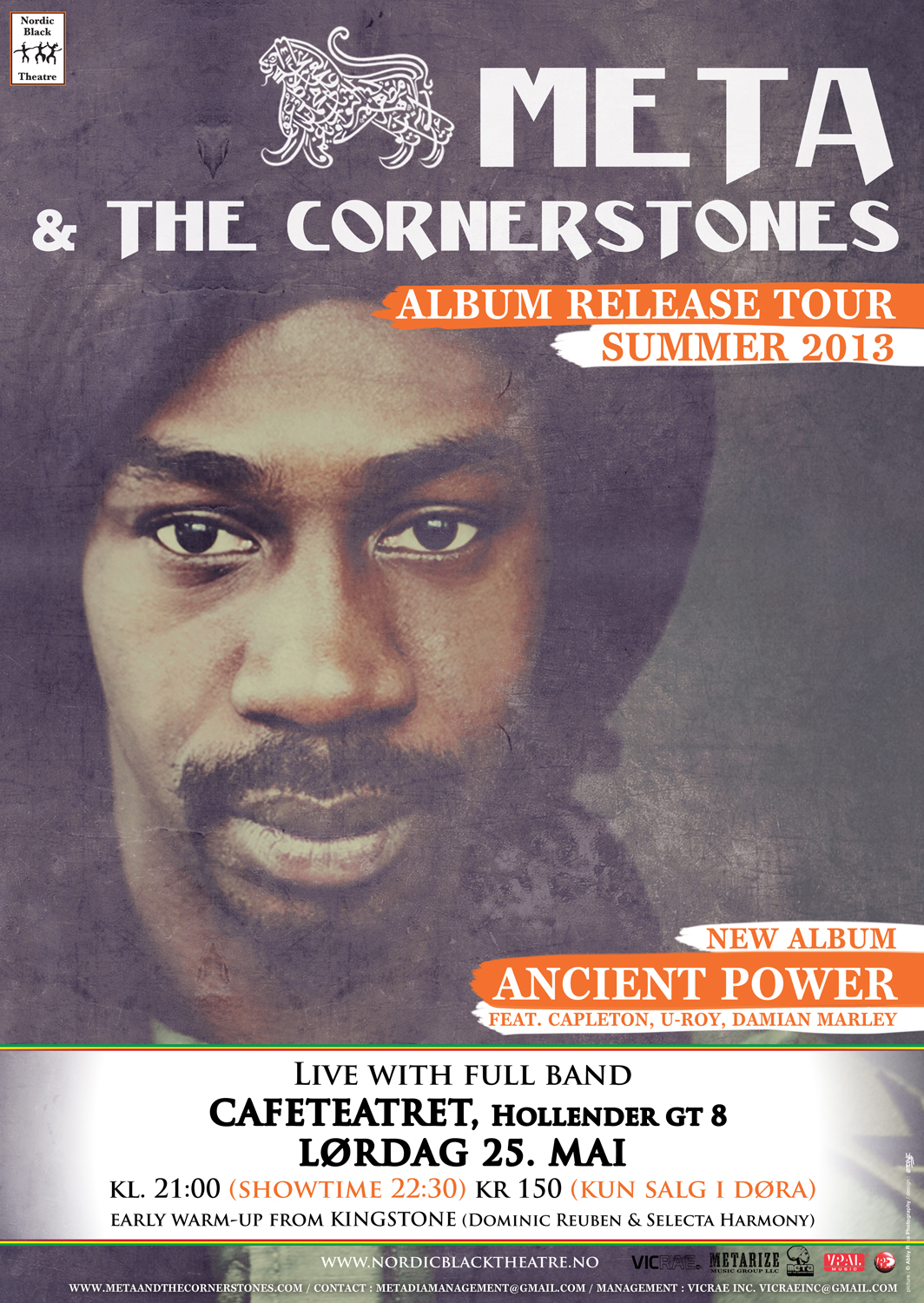 Endelig er tiden inne for at «Meta and the Cornerstones» kommer til Norge!! Bandet som ha blitt kalt «The future of reggae» og ha nylig blitt den første afrikansk reggae band til å bli signert til VP records!
De spiller kun 2 konserter;
i Oslo
på Cafeteatret
hollendergt 8 (vis a vis politihuset, grønland)
lørdag 25. mai
kl 21:00
kr 150 (kun billettsalg i døra!)
early warm up by Kingstone (Dominic Reuben & Selecta Harmony)
i Trondheim/Verkstedhallen 24. mai
Meta Dia er født og oppvokst i Senegal og er den første afrikanske reggaeartisten som har blitt signet av VP Records (known as purveyors of Reggae Music, the independent record label was formed in 1979 and have been instrumental in the careers of artists such as Sean Paul, Beenie Man, Beres Hammond, Gyptian, Etana, Bunji Garlin, Buju Banton, Marcia Griffiths, Morgan Heritage and Mavado, to name a few) .
listen:http://www.youtube.com/watch?v=v_rY6Kr860c

Clive Chin:
"Meta and The Cornerstones have taken us back to the foundation of reggae music".
Meta and the Cornerstones ga ut sitt første album «Forward Music» i 2008, og slapp sitt nyeste album «Ancient Power» 30.April 2013, med bl.a singelen «My Beloved Africa» i samarbeid med Damian Marley og « Tijahni» med Capleton.
United Reggae, Erik Magni, om albumet «Ancient Power»;
«I received a copy last year and instantly fell in love with the uplifting, warm sound, Meta Dia's Bob Marley-tinged singing, his positive lyrics and approach and the soulful roaring groove.»
«Meta's unforgettable vocals are complemented by the incomparable sounds of his band The Cornerstones. Meta and The Cornerstones' music is warm and embodying, immensely addictive, and destined to forever change the dynamics of Reggae music. Through pure musical genius and humble spirits, the band successfully fuses Reggae, Afro-Pop, Hip-Hop, Rock, and Soul music with passionate lyrics in English, French, Wolof and Fulani.»
Meta and The Cornerstones channels the roots of Reggae while simultaneously breathing new life into the genre, thus creating what critics have called a "soul-pounding spiritual experience" during their live performances. Inspired by Alpha Blondy and Lucky Dubee, they have shared the stage with Reggae stars Luciano, Steel Pulse, Clinton Fearon, Israel Vibration, and Tanya Stephens amongst others. In 2007, the band was personally invited by Senegalese-born international
superstar, Youssou N'Dour to perform at his annual African Ball concert at the Nokia Theater in New York. The following year Meta and The Cornerstones proudly released its first album entitled "Forward Music". Of this work Clive Chin; Jamaican producer for The Wailers, Dennis Brown, and Lee 'Scratch' Perry, notes, "Meta and The Cornerstones have taken us back to
the foundation of reggae music".
http://metaandthecornerstones.com/
twitter: @metacornerstone
FB: https://www.facebook.com/metaandthecornerstones?fref=ts