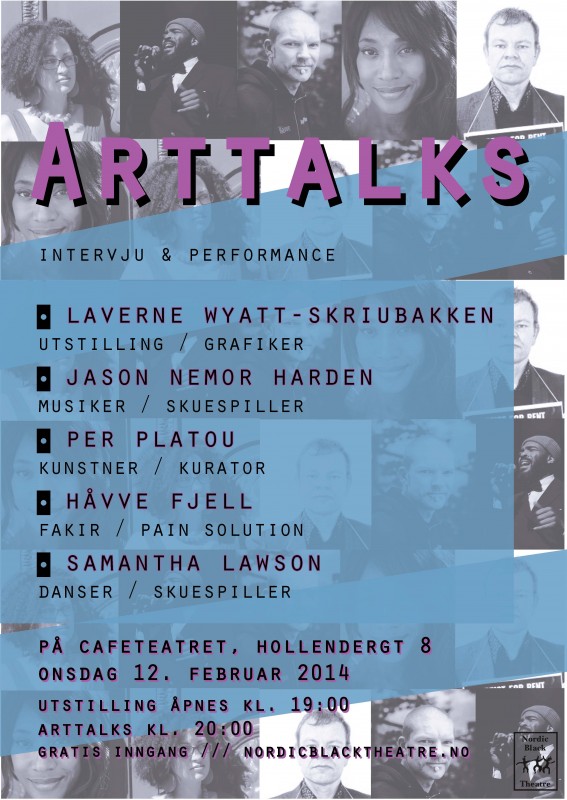 Arttalks – onsdag 12. februar
Intervju /// Performance /// Utstilling
en fantastisk kveld med 5 kunstnere:
◘ laverne wyatt-skriubakken – utstillingen åpnes kl. 19
◘ jason nemor harden – musiker / skuespiller
◘ per platou – kunstner / kurator
◘ håvve fjell – fakir / pain solution
◘ samantha lawson – danser / skuespiller
cafeteatret, hollendergt 8
onsdag 12. februar 2014
utstilling åpnes kl. 19:00
arttalks kl. 20:00
gratis inngang
kl. 19 er det vernissage av Laverne Wyatt-Skriubakken sin utstilling som er laget i forbindels med vår forestilling på Operaen 20.-22. feb «Tribute to the Heroes»  . Vi selger prints av bildene på utstillingen som også skal også vises på Operaen.   Laverne er grafiker fra Sør Afrika.  Jason Nemor Harden er  amerikansk musiker og skuespiller som jobber med soloalbum. Han er også med i «Tribute to the Heroes». Per Platou er kunstner og kurator med lang fartstid i Norge, Håvve Fjell er rektor ved Pain Solution, side-show specialist og fakir.  Samantha Lawsen er danser og skuespiller fra England.  Du har også noen musikalske overraskelser i vente!
Alle de fem kunstnerne intervjues og  vise frem litt av hva de holde på med.  Arttalks er på norsk og engelsk.
Etter artistene er ferdig med sitt blir det DJs og Happy Hour i baren.
Velkommen !
weblink: http://nordicblacktheatre.no/?p=9316
facebook event: https://www.facebook.com/events/672379286138857