søndag 27. april – kl. 14:00
(en del av Theatre Café Festival Oslo 25. – 27. april)
Vår forestilling om Sara med Teater Grimsborken
av Michael Ramløse & Kira Elhauge (Denmark)
En tidlig morgen, hvor kulda er så fuktig og klam, at den kryper inn i marg og bein, hvor det eneste man har lyst til, er å trekke dyna over hodet og stenge verden ute… høres det et skrik. Sara er borte!
Vår forestilling om Sara er en rørende historie om en glad og harmonisk jente, som nesten mister livet på grunn av mobbing. Forestillingen kommer hverken med pekefingre, eller med løsninger, men setter søkelyset på hvordan mobbingen påvirker Sara, og på hvor vanskelig det er for foreldrene å gjøre noe.
Teater Grimsborken ble tablert i 1998, og er under ledelse av Peder Opstad. Spiller teater for barn, unge og voksne over hele landet.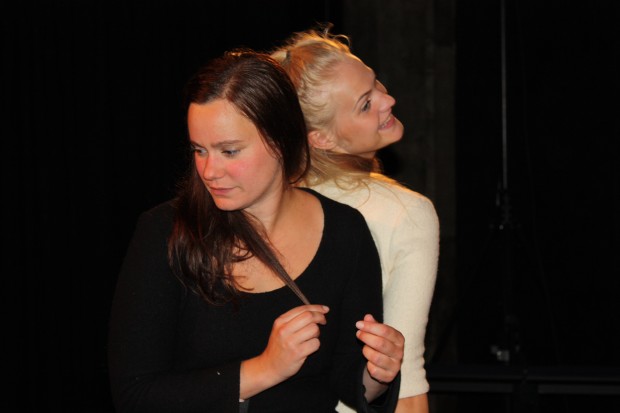 Regi: Henrik Steen Larsen
Produsent og norsk oversettelse: Peder Opstad
Manus: Michael Ramløse og Kira Elhauge
Design: Cathrine Gåre Opstad
Skuespillere: Ingebjørg Buen, Hanne Amalie Smedstad, Sveinung Oppegaard
Foto: Peder Opstad
The project has received support from Statens Kunstråds Litteraturudvalg / the Danish Arts Council.