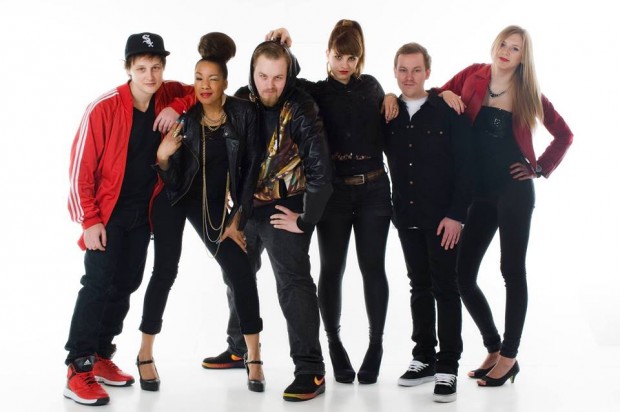 Come join us at Cafeteatret on May 16th for an unforgettable musical journey. Lotus is the front woman of the musical mind melding that is AWESOMNIA..
The music on the 16th will be a steaming hot pot of everything Awesome. We be bumpin hip hop, soul, rock, reggae, funk and jazz, and maybe some styles you aint never heard of. And we be doing it like it ain't no thang. With this strange bunch of folks, miss Lotus has handpicked to join her on stage, things are 'bout to get interesting. Do not miss this debut performance.
It will be awesome (Pun fully intended!)
C/C 120 NOK
facebook event: klikk her
AWESOMNIA is:
«LOTUS»
"Lotus", aka "Maria", aka "Pepper Karlsen", aka "YO FOOL!", was born on a stage. Since she could walk she has been "poppin' and lockin'" her way though life, with the Who's who of the Scandinavian music game. As a dancer she has hit the stages with MadCon, Ylvis, blah blah blah…. But now she is LOTUS….. BAM!! Spitting fire and wisdom in equal portions, with punch lines to kill ya and storylines to crush ya, she takes on a journey through what it is to "be" in this world. With a heap of presence, a pinch of poise and a dash of silliness, to see Lotus on a stage is to see Lotus at home.
«FREEDOM»
Frida, the guitar goddess hails from the west Norway town of Molde. From an artistic family, living on a farm, she learnt how to shred in shed. Her awesomeness is now based in Oslo, wielding a guitar and a mic at the Awesomnia party.
«BEATUR»
As a boy in Iceland, «Beatur the mugician» realised that his considerable supply of excess hot air could be harnessed to make sick beats with his mouth. The reputation of the awesome nature of his skills of creating music from nothing, soon spread far and wide. He has appeared as a solo artist, and on many TV, Radio, and live shows. Armed with his magical electric arsenal and a phat ass groove, you will be left asking, "How does he do that?"
«INGA»
Inga is the songstress and nail stylist for this awesome outfit. The perfect combination of harmony and badassness, was honed by being Icelandic (lets face it, they are badass) and many years in an acapella band. Inga has been awesome on NRK's , "Beat 4 Beat", and at the Norwegian Opera House. She has also been known to create awesomeness out of wool with her bare hands.
«K-DUB»
Kristian has been the "West Norwegian Tickle Champion" 12 years in a row. A skill which comes in handy when he is "tickling the ivories". He is able to create the sound of laughing without crying better then most, for his age. He has been caught tickling the keyboards for many of Norway's premier musical artists including Maya Vik, Sisi, and Julie Bergan. With a mixture of vintage awesome and some newer genres of awesome, KW is the shiznit.
«SNATCH»
Growing up on an Australian beef farm in a little town no-one has ever heard of, Nick Hatch used to work as a Coby beef masseur. He developed incredible thumb and palm muscles, enabling him to hit things with sticks faster then the rain (and that is pretty fast!) Steering the "awesomebus" from the back, he will make sure you nod your head til your neck breaks. Since moving the funk From Australia to Norway, Nick has swung the sticks for artists such as Admiral P, Nico D, Essa Cham, and Onkel P.