Meta & The Cornerstones (Senegal/USA) performed a truly fantastic concert at Cafeteatret in 2013, they had the crowd dancing and singing along for hours…. now they're back!!
torsdag 21. august
kl. 20:00 – showtime 21:00
kr 150 – billetter fra døra
If you missed it last time, you dont want to miss it again! If you where there last time, you dont need convincing….  see you there!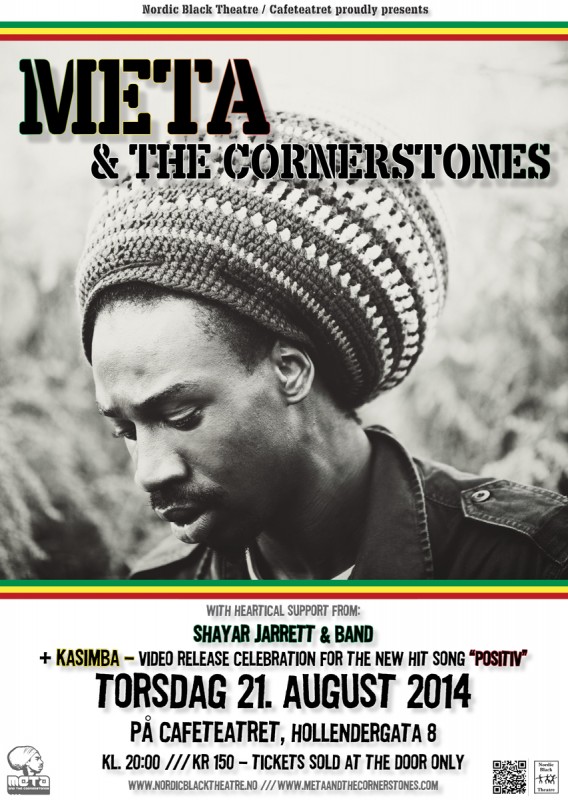 Proclaimed the next African Reggae Voice, Meta's unforgettable vocals are complemented by the incomparable sounds of his band.  Fusing Reggae, Afro-Pop, Hip-Hop, Rock, and Soul music with passionate lyrics in English, French, Wolof and Fulani, Meta and The Cornerstones' music is warm and embodying, immensely addictive and destined to forever change the dynamics of Reggae music.
Born in Senegal, West Africa, lead singer Meta Dia discovered his love for music and desire to be a musician at a very young age.  Listening to Reggae greats Bob Marley and Gregory Isaacs helped nurture his admiration and true appreciation for all types of music. As a self-taught musician, by age 14 he was performing on the streets and stages of his hometown Dakar, Senegal.  In 2000, Meta formed his first band YALLA SUUREN, which means God Bless, was nominated for Best Hip-Hop/Reggae Group by the French Cultural Center that same year. Within two years, Meta had become one of the premiere pioneering voices of the Hip-Hop culture in West Africa. After relocating to the United States, Meta collaborated with artists such as Sean Blackman and Hip-Hop Ambassador Toni Blackman and formed his visionary band, Meta and The Cornerstones.
Inspired by Alpha Blondy and Lucky Dubee, the band channels the roots of Reggae while simultaneously breathing new life into the genre, thus creating what critics have called a "soul-pounding spiritual experience."  They have shared the stage with Reggae stars Luciano, Steel Pulse, Clinton Fearon, Israel Vibration, and Tanya Stephens among others. In 2007, the band was personally invited by Senegalese-born international superstar, Youssou N'Dour, to perform at his annual African Ball concert at the Nokia Theater in New York. The following year Meta and The Cornerstones released their debut album entitled, Forward Music.  Of this work Clive Chin, Jamaican producer for The Wailers, Dennis Brown, and Lee 'Scratch' Perry, notes "Meta and The Cornerstones have taken us back to the foundation of reggae music.  I'm from the old school and it reminds me of my days. It's a band that sounds tight and wicked with infectious lyrics. The first album is brilliant, I give it 5 stars.  My personal favorite is "Somewhere in Africa"."
As the band continues to establish new ground, they have secured a deal with record label VP Records that makes them the first African artist signed to the label.  Through VP, Meta and The Cornerstones released their sophomore album Ancient Power on April 30th 2013. The album was recorded in Kingston, Jamaica at Tuff Gong. Ancient Power links Africa to Jamaica by paying tribute to the ageless sounds of reggae preserved by the history of its legends. The 14 track album features reggae artists, U-Roy, Capleton and Damian Marley. The album was amongst many top 10 ratings by worldwide reggae websites in 2013 like Reggaeville (#4 best reggae album), United Reggae, Worldareggae, Last FM and radio stations like Rythm Vault International in California and RFI in France.