Open workshop Dysfluency as corporal, social and political act
På Cafeteatret, lørdag 06. september kl 11.00 – 15.00
påmelding til: cliff@nordicblacktheatre.no
Dysfluent speech is often perceived as deceptive or 'lying-speech'. How do the power structures (these regimes of fluency) want us to speak? Even at Guantanamo bay? How can we as poets make a language for how we speak?
Jordan Scott (CA) on the stutter and how we can write about our mouths (our voice) in ways that engage with the physiological bifurcations of our bodies and how we can explore endurance as performance. Påmelding til cliff@nordicblacktheatre.no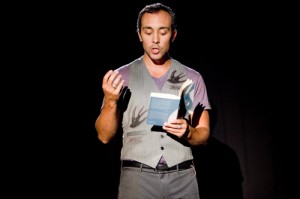 Deltakere:
Jordan Scott (CA) is the author of Silt, which was nominated for the Dorothy Livesay Poetry Prize, and Blert. Blert was adapted into a short film for Bravo! and was the subject of an online interactive documentary commissioned by the National Film Board of Canada. In Blert, Jordan Scott has taken a lifetime of stuttering and turned it to audacious advantage. Scitt recreates his experience of language as a resistant physical medium—where every vowel and consonant must be traversed, claimed, made audible by non-stop bodily effort. And for the non-stuttering reader, the effect is boggling. As the initial disorientation begins to clear, our familiar relation to words is both dislocated and clarified.
In the summer of 2009, poets Stephen Colls and Jordan Scott treavelled to five distinct ecosystems in British Columbia, leaving a single copy of Darwins On the origin of Species to decay for a year in each remote outdoor location. A year later the texts were retrieved, photographed and documented, and worked into Decomp, an extended photo-essay and prose poem. The poets allowed nature to make "selections" from Darwins text, via decomposition. Each distinctive ecosystem offered a different "reading" of (and through) the rotting book´s pages. As evolution works, in Timothy Morton´s words, through
constant rewriting of the DNA sequence," so the poets found themselves faced with a constantly rewritten Darwin. The final text is "made up of all kinds of viral code insertions so you can´t tell whichs bit is original.
Through colorful photo reproductions and prose meditations on their found texts, Collis and Scott have produced a work that moveds beyond the typical dualism of nature and writing – dualisms still active in Darwins own book.
Jordan deltar også med opplesning på Ibsenmuseet, lørdag 06. september kl 19.30 og i poesisamtalen på Kunstnernes Hus, søndag 7. september kl 14.00.