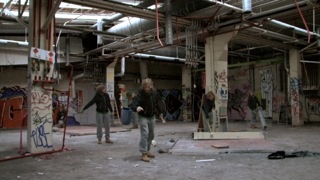 Fresh Factor and the Clones of Funk
Leo Presten gir ut plate til våren. Musiken er en moderne blanding av Soul, Reggae, Funk, Hip Hop og 70tals Rock. På platen spiller han alle instrumenter selv, men i forbindelsen med "live showet" har han gåt i samarbeid med fotograf/AV tekniker Brynjar Vik for å skape en energisk enmannsopptreden i skillet mellom konsert og scenekunst. En audiovisuell koreografi som har premiere under Bergens Oktoberdans festival. Materialet fremføres på en fysisk og leken måte med mål om å skape det samme fengende engasjementet som man forbinder med et ensemble.
Leo Preston lanserte sin kunstneriske karriere med den tverrfaglige kunstnertrioen History Disposal Unit, og deres "Performance Parties" i London, men flyttet sitt virke til Bergen på 1990-tallet. Preston har laget en rekke forestillinger (både solo og ensemble), er medstifter av kunsthuset Wrap, og har samarbeidet med en rekke scenekunstgrupper som f.eks. Mundo Perfeito, Happy Gorilla Dance Company og NONcompany. Han er også kjent som musiker, filmskaper og lysdesigner.
Se/les/hør mer på: www.leopreston.org