Saturday the 7th febrary we will have the official Concert of Tap Oslo 2015. The concert will be hosted by the amazingly talented Ludovico Hombravella Suarez, who will also perform along with Jason Samuels Smith and Gerson Lanza and with a live band existing of the wonderful musicians Ole Martin Thorset, Torbjørn Kvamme and Jens Fossum!
This will be an concert packed with the best of dancers in Oslo!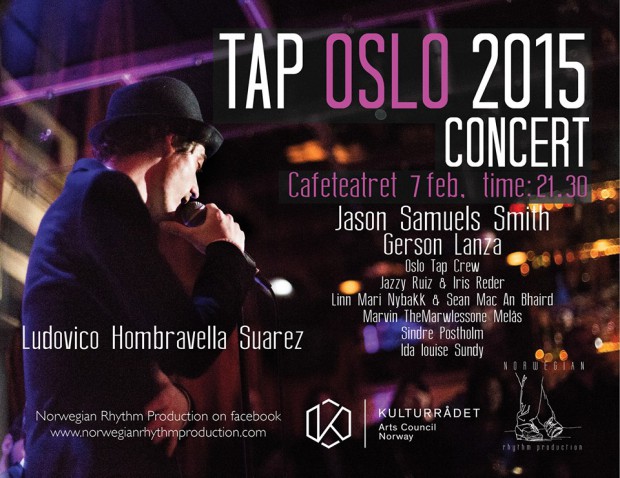 We have the latin dance couple Jazzy Ruiz and Iris Reder that has performed all over Europe.
Sindre Postholm, one of Oslo's musical stars, have a surprise for us all.
Our fantastic Lindyhop teachers will give a small performance, Linn Mari Nybakk & Sean Mac An Bhaird.
One of Oslo's best b-boys, member of Kingwings crew and Deep Down Dopeizm, Marvin Melås will perform.
And we are also so luck that we have with us the multi talented Ida Louise Sundby from Deep Down Dopeizm.
It's going to be a night that has never been seen in Oslo, when all dance communities gather and perform. Those over 18 can stay and join the afterparty. A night to remember!
Price: 120 NOK
Festival contestants: 100 NOK
Full pass holders: free
Performers
Jason Samuels Smith (performer, choreographer, director) has emerged as a multi-talented leader in the Art form of Tap. He received the 2009 Dance Magazine Award and won both an Emmy and American Choreography Award for "Outstanding Choreography" for the Opening number of the Jerry Lewis/MDA Telethon in a tribute to Gregory Hines. He has won several other awards, and is also the founder and director of L.A. Tap festival.
At several occasions Mr. Samuels Smith has appeared as a special guest on Fox's hit series So You Think You Can Dance, as a choreographer for Grammy Artist Mya on CBS's Secret Talents of The Stars, and as an associate choreographer for ABC's Dancing With The Stars. He also co-starred in Dean Hargrove's "Tap Heat" (short movie) and other tv and film productions. Other performance credits include the Tony Award winning Broadway cast of Bring in Da'Noise, Bring in Da'Funk in principal and lead roles, starring in the critically acclaimed production of Imagine Tap!, Savion Glover's NYOTs (Not Your Ordinary Tappers),
Mr. Samuels Smith founded tap company A.C.G.I. (Anybody Can Get It) with performances that included an exclusive 2-week sold-out engagement at Jacob's Pillow Dance Festival, the New York City Center Fall for Dance Festival and at Sadlers Wells Sampled in London. One of his latest projects under development is Charlie's Angels: A Tribute to Charlie Parker features intricate and entertaining choreography on a trio of some of the most talented women performers today, spoken word from Craig "muMs" Grant, and a combination of live and original recorded music. He also co-founded JaJa Productions featuring original jazz-influenced hip hop music with appearances throughout the United States. Mr. Samuels Smith continues to tour the US and India with India Jazz Suites, a dynamic collaboration with Kathak Master Pandit Chitresh Das.
Read more at http://www.divinerhythmproductions.com/jasonsamuelssmith.html
He will be teaching the two highest levels, and give a performance at the saturday show/jam.
Ludovico Hombravella Suarez is a world know tap-dancer with his current base in Barcelona. He's well recognized in the European tap dance scene, and has toured all over the world and given workshops in countries as France, Germany, Italy, Norway, Finland, Spain, Lebanon, Tureky and Japan.
He has also hosted several tap-festivals and Jams as Stockholm tap festival (2012), Tap on Barcelona (2010-2013), Junco Jazz Club in Madrid, Mirablau Barcelona & Swing Maniacs.
As a coreographer he has credits as «Solos» (directed by Basilio Gonzalez), «W.O.T.O», «Walk On Tap On» (co-creator). And he has also worked with artists and bands as Roxane Butterfly, Sebastian Weber, Bob Sands Big Band, Perico Sambeat Sacred Concert D.E. , Gordon Webster Sextet, Rafael Amargo, Camut Band, T.J. Jazz Quartet.
He will be giving classes in level 1/2 and an open level class that focuses on a different theme every day and you will also see him in the jam/show saturday night.
Gerson Lanza is originally from La Ceiba, Honduras. Gerson first encountered the art form of tap dance after moving to New York City in 2001. He began his tap dance training under Omar Edwards at his studio "Harlem Tap," and went on studying Tap dance at Harlem School of the Arts, under the instruction of Joseph Webb. He's now a member at «Apt. 33» a NY-based professional company directed by Chloe Arnold. He's trained from amazing tap-dacners as Omar Edwards, Joseph Webb, Derick Grant, Jason Janas, Chloe Arnold, Jason Samuels Smith.
He has performed in shows and places as "Amor Latino," (2009, Off-Broadway), "Brazilian Jambush" (2011, NC, choreographer/dancer) "Generation HeART" (NC 2011, director/dancer), DC Tap dance festival, L.A. tap dance festival.
He has thought places as North Carolina, Utah, Los Angeles, Rio de Janeiro and Uberlandia, Brazil, and in Salt Lake City, and also assistant to Chloe Arnold in Stockholm Tap Festival (2014).
He will be giving classes for beginners/level 0, that will introduce tap for «non-tappers» and you will also see him in the show/jam saturday night.»
http://www.norwegianrhythmproduction.com/#!tap-oslo-2015/c1art
https://www.youtube.com/watch?v=eKISVE-SOmM
https://www.facebook.com/events/669798583128609/