International Jazz Day Celebrations, eller Internasjonal Jazz Dager!!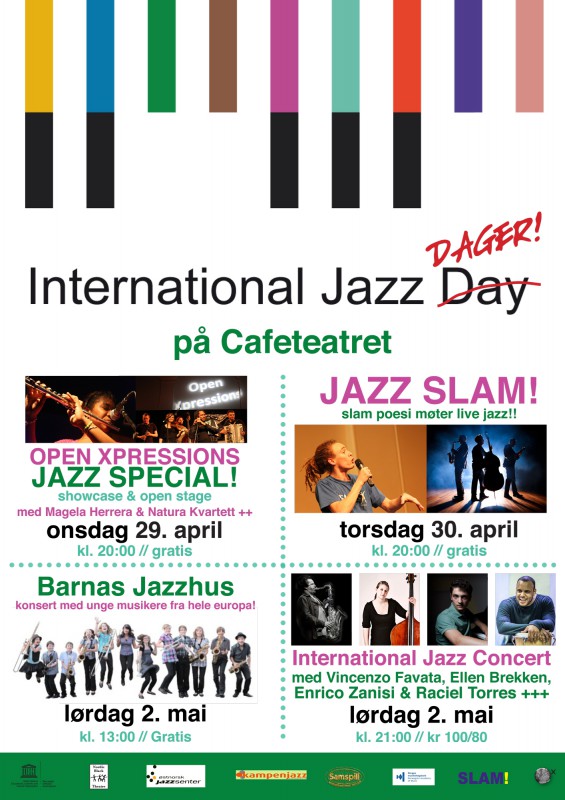 Jazz er  en internasjonal kunstform, som stadig er i utvikling.  Gjennom jazzens reiser over hele verden, låner den det beste fra de ulike land og kulturer og beriker seg som sjanger. Til tross for definisjonsproblematikken, snakker jazz mange språk og har blitt en samlende kraft for sine tilhengere uavhengig av rase, religion og etnisite.
Hvert år den 30. april er international jazzday blitt en feiring som er opptatt av å fremheve den gleden som jazz kan bringe som en samlende kraft og som et verktøy for tilnærming.
I anledning dette blir det 4 spennende arrangementer på Nordic Black Theatre / Cafeteatret på 29. april, 30. april og 2. mai!
onsdag 29. april
OPEN XPRESSIONS JAZZ SPECIAL! – kl. 20:00 – gratis
Showcase med bl. a. kubansk jazz fra Magela Herrera & Natura Kvartett + åpen scene – påmelding kl. 19:00 – showcase begynner kl. 20:00
torsdag 30. april
JAZZ SLAM! – kl. 20:00 – gratis
noen av Norges alle beste slam-poeter møter utvalgte jazz musikere + Slam! husbandet for en hefty kveld med live jazz og slampoesi – den perfekte match!
lørdag 2. mai – kl. 13:00 – gratis
Barnas Jazzhus
Unge jazz musikere fra hele europa spiller sammen! i fjor var nivået overraskende (utrolig?) høyt og konserten ble virkelig knall bra!
lørdag 2. mai – kl. 20:00 – kr 100/80
International Jazz Concert
To av Italias alle beste jazz musikere møter to spennende musikere bosatt i Norge – plus gjester og jam session etterpå!
Enrico Zanisi, Vincenzo Favata, Ellen Brekken og Raciel Torres – kuratert av Ivan Mazuze!  Konserten blir en dynamisk opplevelse som viser frem jazz som internasjonalt språk!
Internasjonal Jazz Dager 2015 er arrangert av: Nordic Black Theatre, Kampenjazz, Samspill og Østnorsk Jazzsenter og er støttet av UNESCO