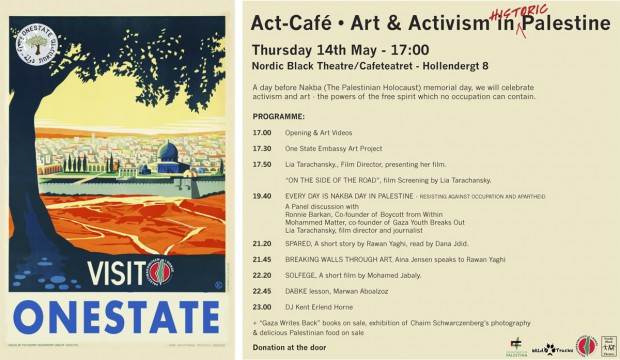 Act-Café  –  Art & Activism in Historic Palestine
A day before Nakba (The Palestinian Holocaust) memorial day, we will celebrate
activism and art – the powers of the free spirit which no occupation can contain.
PROGRAMME:
17.00     Opening & Art Videos
17.30    One State Embassy Art Project
17.50    Lia Tarachansky., Film Director, presenting her film.
"ON THE SIDE OF THE ROAD", film Screening by Lia Tarachansky.
19.40    EVERY DAY IS NAKBA DAY IN PALESTINE – RESISTING AGAINST OCCUPATION AND APARTHEID
A Panel discussion with
Ronnie Barkan, Co-founder of Boycott from Within
Mohammed Matter, co-founder of Gaza Youth Breaks Out
Lia Tarachansky, film director and journalist
21.20    SPARED, A short story by Rawan Yaghi, read by Dana Jdid.
21.45    BREAKING WALLS THROUGH ART, Aina Jensen speaks to Rawan Yaghi
22.20    SOLFEGE, A short film by Mohamed Jabaly.
22.45    DABKE lesson, Marwan Aboalzoz
23.00    DJ Kent Erlend Horne
+ "Gaza Writes Back" books on sale, exhibition of Chaim Schwarczenberg's photography
& delicious Palestinian food on sale
Donation at the door
Facebook event (for updates etc) : https://www.facebook.com/events/454706784683534/