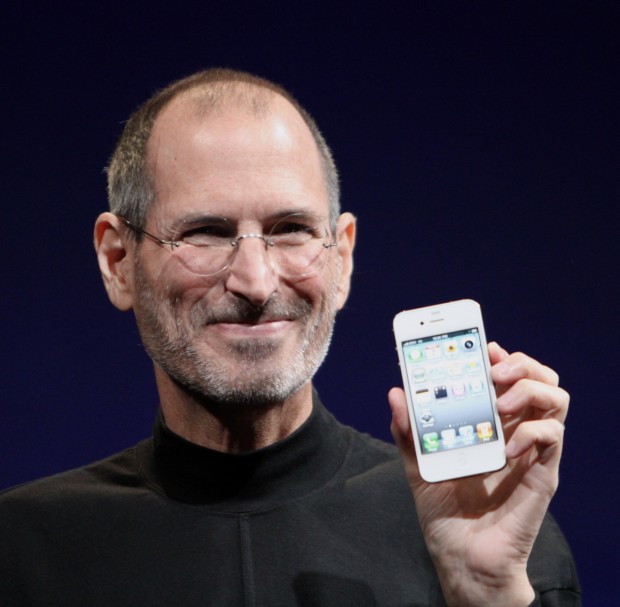 Dato: Mandag 18. januar 2016
Tidspunkt: 19:00
Hvor: Cafeteatret, Hollendergata 8
Pris: 150,- kroner
Billetter kjøpes i døra.
Om stykket
(Info in English further down)
Hvor er iPhonen din produsert? Og av hvem? Hvem var egentlig Steve Jobs? Og kan fortellingen om Steve Jobs liv og Mike Daiseys reise til en hemmelig fabrikk i Kina (på størrelse med en by) fortelle oss noe om hvem vi har blitt?
Oslo Internasjonale Teater slår seg igjen på lag med skuespiller og dramatiker Kate Pendry som framfører Mike Daiseys monlogstykke The Agony and the Ecstacy of Steve Jobs.
I stykket forteller den amerikanske dramatikeren, aktivisten, journalisten og «monologisten» Mike Daisey om sin sjokkerende reise til fabrikken der Apple produserer alle sine produkter. Der møter han blant annet en gruppe ulovlig organiserte arbeidere. Avsløringene fra Kina veves sammen med fortellingen om Steve Jobs' liv, en fortelling som i stor grad er synonym med historien til den personlige datamaskinen.
Gjennom Mike Daiseys komiske blikk møter vi kanskje oss selv i døra, idet han viser oss hvordan teknologien har tatt over livene våre. Er den vår beste venn eller verste fiende?
En verdensomspennende suksess: Open source-teater!
The agony and The Ecstacy of Steve Jobs er teater med en sterk politisk vilje – og suksess. Stykket har satt elektronikkprodusentenes etikk på dagsordenen i amerikanske og internasjonale medier.
Etter 200 forestillinger i 18 forskjellige byer, gjorde Daisey teksten tilgjengelig for gratis nedlasting på sine nettsider, med frie rettigheter til oppførelse! Stykket ble et internettfenomen; lastet ned mer enn 100.000 ganger bare den første uka den lå ute. Foreløpig har teksten blitt produsert 35 ganger og er oversatt til seks språk.
Så vidt vi vet er dette første gang stykket presenteres i Norge.
Les mer om Mike Daisey her.
OITs lesning
Forrige gang OIT samarbeidet med skuespiller og dramatiker Kate Pendry var suksessen White Rabbit, Red Rabbit i 2012. Nå er det Daiseys portrett av Steve Jobs som står på plakaten.
Pendry leser teksten på originalspråket, og baren på Cafeteatret er åpen hele kvelden. La iPhonen ligge hjemme – om du klarer – og kom og lytt til Mike Daiseys morsomme og innsiktsfulle tekst, full av ubehagelige sannheter…
About Kate Pendry
Kate Pendry (UK/NO) was born and raised in London, and has been living in Oslo since 1995. She has a formal acting training from Mountview Theatre School in London. Since arriving in Norway she's used her classical theatre background in a wide range of artistic expression, including VR installations, performance art, curating art, live sound manipulations, radio, and of course pure theatre. She has performed one-person shows throughout Norway and Europe. Pendry has twice been nominated for the prestigious Ibsen Prize for playwriting, winning the award in 2010 for her play about a (fictional) Norwegian school massacre «Erasmus Tyrannus Rex». Currently she is a member of Winter Guests theatre ensemble, and is playwright-in-residence at the Norwegian Centre For New Playwriting (Dramatikkens hus).
Les mer om Kate Pendry her.
Foto av Mike Daisey hentet fra mikedaisey.blogspot.com. 
Foto av Kate Pendry hentet fra katependry.com.
«Steve Jobs Headshot 2010-CROP» by Matthew Yohe. Licensed under CC BY-SA 3.0 via Wikimedia Commons – https://commons.wikimedia.org/wiki/File:Steve_Jobs_Headshot_2010-CROP.jpg#/media/File:Steve_Jobs_Headshot_2010-CROP.jpg
Info in English:
Where is your iPhone produced? And by whom? Who was Steve Jobs – really? And can the story of Steve Jobs' life and Mike Daisey's journey to a secret factory in China (the size of a city) tell us something about who we have become?
In the monologue The Agony and The Ecstasy of Steve Jobs the American playwright, activist and journalist Mike Daisey relates his shocking journey to the factory where Apple manufactures all its products. There he meets, amongst others, a group of illegally organized workers. The strattling revelations from China are interwoven with the story of Steve Jobs' life, a story that is largely synonymous with the history of the personal computer.
Through Mike Daisey comic point of view we meet maybe ourselves at the door, as he shows us how technology has taken over our lives. Is it our best friend or our worst enemy?
Oslo International Theatre ones again teams up with renowned actor and playwright Kate Pendry. She'll be reading the text in the original language, and the bar at Cafe Theatre is open all evening. Leave your iPhone at home – if you can – and come and listen to Daisey's funny and insightful text, which is chock full of unpleasant truths …
Welcome to the staged reading of «The Agony and The Ecstasy of Steve Jobs» by Mike Daisey ot Cafeteatret Monday January 18! Performed by Kate Pendry.
Price: 150, –
Tickets on sale at the door