Concrete Queens
fredag 27. mai
kl. 21:00 – kr 100
billetter kan kjøpes HER eller i døra
Opplev to av samtidsscenens sterkeste kvinnelige urbane utøvere: and evening celebrating women who have made a voice in the otherwise male dominated field, The Queens will grace the stage!
Maria «Lotus» Karlsen – konsert
& Antoinette Gomis – dans performance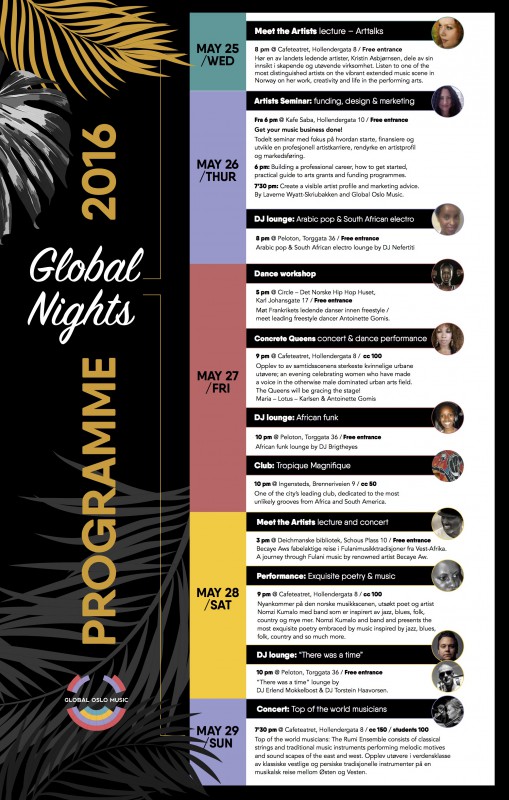 last ned programmet her som PDF: Global Nights 2016
Antoinette Gomis, danser, koreograf og modell er en av Frankrikets ledende dansere innen freestyle med meritter langt utover landets grenser. Hun startet seks år gammel med trening innen samtidsdans før hun som tenåring vendte seg mot hip-hop-scenen. Vinner av en rekke dansekonkurranser, i musikalen Kirikou, i tv-programmer, i reklamer og internasjonalt ved siden av blant andre Madonna, har skapt av henne en markant danser med stort nedslagsfelt. I dag driver hun sitt eget kompani med kvinnelige dansere – Zamounda Crew – med referanser til særlig House Dance og Waacking. Gomis reiser verden rundt for å undervise i sin særegne tenikker, og vil under sitt besøk til Oslo og Global Nights holde en danseworkshop og performance som hyller Nina Simone som en del av "Concrete Queens"-arrangementet på Cafeteatret.
(EN) Dancer, choreographer and model Antoinette Gomis is a leading dancer in the French street dance scene. After studying entertainment and art, she began a career as a dancer. She has danced under the direction of Wayne McGregor in the musical Kirikou, besides Madonna in New York, done tv-programs and commercials. Through her career she won several street dance competitions and battles such as Funkin Stylez in Dusseldorf, Nike's Bring Your Troupe and Soul Session in Sweden. Chosen by Puma to be part of their Puma The Quest campaign her charisma naturally grew to be Salah's assistant for Cirque du Soleil as a dance captain. Today she's running her own alle female company – Zamounda Crew – with strong roots to House Dance og Waacking. In Oslo she will host a dance workshop and perform her special tribute to Nina Simone under the "Concrete Queens" show at Cafeteatret.
Maria – Lotus – Karlsen, AWESOMNIA-frontperson og alfakvinne Maria – Lotus – Karlsen er en mangfoldig, utøvende kunstner, som også er en av skaperne bak NRK Supers barne-TV-suksess AF1 – Alle for 1. Karlsen, som mange kjenner igjen fra fjorårets NRK Stjernekamp, har som soloartist samarbeidet med artister som blant annet svenske Cleo, Femtastic, Gatas Parlament, Pumba, Nosizwe, Klish. Med over 15 års erfaring som profesjonell utøver begynte "Lotus-stemmen" å blomstre tidlig i 2011. Hun sier hva hun mener, og hun viser sin sårbarhet parallelt med sine tøffe sider gjennom slampoesi, sang og rap. Hun er aktuell med sin første skoleturné i regi av Rikskonsertene i Sør-Trøndelag samt at hun gjør seg klar til å gå i studio igjen. Lotus ønsker å formidle, lære bort, skape motivasjon og inspirere gjennom sine rap-workshop, turnéer og musikk. Under "Concrete Queens" får publikum en forsmak på "LOTUS ONEnation" – hennes visjon for fremtiden!
(EN) Maria – Lotus – Karlsen, "awesomnia front person" and alpha woman is a diversified, performing artist, who is also one of the creators behind NRK Super children's television success AF1 – All 1 Karlsen, who many will recognize from last year's NRK "Star Game", has collaborated with artists including Swedish Cleo, Femtastic, Gatas Parlament, Pumba, Nosizwe, Klishe among others. With more than fifteen years experience as a professional performing artist the "Lotus voice" began to flourish in early 2011. She is an outspoken woman, showing her vulnerability and tough sides through slam poetry, song and rap. Currently on her first tour in schools in Sør-Trøndelag, Norway, organized by Rikskonsertene and preparing new studio recordings. Lotus wants to convey, teach, motivate and inspire through rap workshop, artistic productions and live performances. At "Concrete Queens" night she'll give the audience a taste of "LOTUS OneNation" – a visionary statement!