BANAT El BALAD DANCE SHOW
with Guy Schalom (UK), Magdy Tewfik (Egy/Ger) and Norwegian bellydancers!
Doors open 8 pm (show starts 9 pm)
CC: 150 NOK.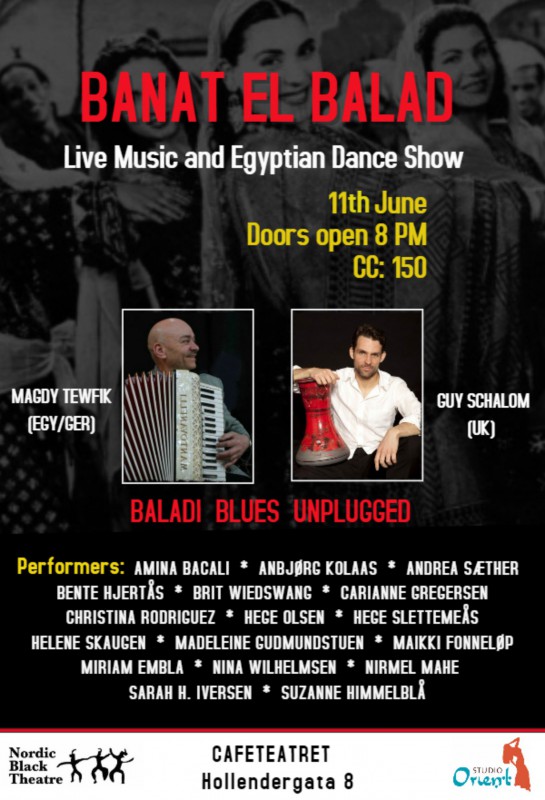 ** Scroll down for English version **
For første gang i Norge; Baladi Blues Unplugged!
Studio Orient har den store gleden av å ønske velkommen til en kveld der den originale egyptiske dansen og musikken er i fokus. Baladi er en improvisert stil innen magedans der danserens personlige karakter og emosjoner kommer til syne, og der lekenhet og humor ofte er vanlige ingredienser. Det er den nære interaksjonen mellom musikerne, danserne og publikum som gjør opplevelsen spontan, kreativ og levende for alle de involverte.
Guy Schalom (UK) på tabla og Magdy Tewfik (EGY/GER) på trekkspill vil akkompagnere norske dansere på akkustisk vis, og for kjennere av egyptisk musikk blir det gjenhør med mange kjente klassikere!
Billetter kan kjøpes i døra eller forhåndsbestilles på denne mailadressen: camp@studioorient.no
Pris: 150 kr.
Dørene åpner kl. 20. Showstart kl. 21.
– – – – – – – – – – – – – – – – – – – – – – – – – – – – –
Studio Orient proudly presents, for the first time in Norway: Baladi Blues Unplugged!
We welcome you all to an evening with Egyptian dance and music. Baladi is an improvised style of belly dance which highlights the emotions, playfulness and personality of the dancer. The interaction between live musicians, dancers and audience creates an atmosphere of spontaneous creativity and in-the-moment experience for all those involved.
Guy Schalom (UK) on Egyptian tabla and Magdy Tewfik (EGY/GER) on quarter-tone accordion will be accompanying Norwegian dancers, and all those familiarized with Egyptian music will have the chance of enjoying several classic songs!
Tickets are sold at the door, but can also be pre-booked.
Contact us for reservation: camp@studioorient.no
CC: 150 NOK
Doors open 20 pm, show starts 21 pm.
We bring our mojo – you're very welcome to bring yours!