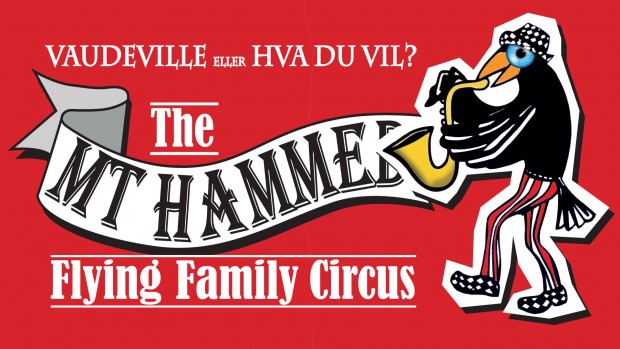 MT Hammeds Flying Family Circus fredag 17. oktober:
– Support: Øy
– DJ Sprængt Torsk
– Storytelling
– overraskelser
– MT Hammed spiller sin eminente balubaSKA, bare for deg!
+ Merch: T-Shirt / Inngang 100,- Billetter kjøpes i døra
VELKOMMEN!
Norges eldste SKAband, MT Hammed ble startet i Oslo i 1989. Bandet opparbeidet seg raskt et godt rykte som et forrykende liveband og har vært supportband for noen av de største SKA legendene som har besøkt landet, som Desmond Dekker(rip), Bad Manners, The Mighty Mighty Bosstones og The Specials,
MT Hammeds besetning består av trompet, saxofon, trombone, to skankegitarister, bass, skankeorgel, perkusjon, trommer samt mannlig og kvinnelig vokal.
MT Hammed presenterer sin egen variant av den jamaikanske SKAmusikken, gjennom et variert utvalg låter. Gode gamle slagere som calypsolåta Big Bamboo og reggaelåta Shame and Scandal, står på repertoaret, det samme gjør Selecter låta Three Minute Hero. Men først og fremst har MT Hammed sin egen låtproduksjon med Skabaluba av høyt kaliber!
Det siste året har MT Hammed vært fast engasjert på Cafèteatret/Nordic Black Theatre på Grønland i Oslo. Én kveld i måneden fylles lokalene med fans og venner, og MT Hammeds Flying Family Circus tar form. Et helaftens konsept utviklet i samarbeid med elever fra drama og estetikklinja på høyskolen i Oslo, og drag gruppa Princessillicious. Showet er nyskapende og variert, og setter ny publikumsrekord hver måned. Her utforskes helt nye terminologier som SKAbaluba, SKAdrag og FAUXdrag.
Målgruppen for både MT Hammeds konserter og MT Hammeds Flying Family Circus showet er stor. Fansen kommer i alle aldre, også de yngste kan ses dansende foran scenen, for eksempel på den årlige Hagelarmfestivalen i Etterstad kolonihager. MT Hammed leverer en gla'pakke og det liker alle!:)
Følg med! Her blir det mye bra SKA å glede seg til fremover!
KEEP ON SKANKING! VI GIR OSS ALDRI!
mer info kommer snart….