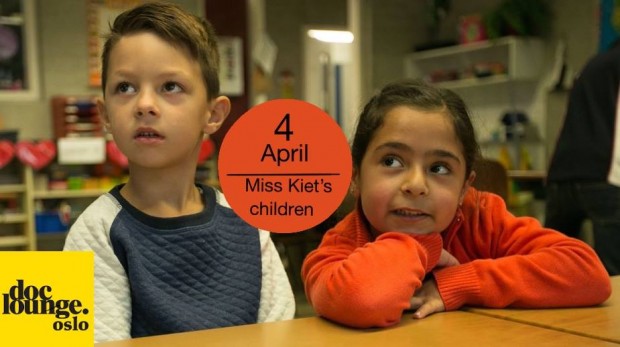 Miss Kiet's children is a charming documentary about immigrant children learning a new language and developing friendships in the dutch classroom with Miss Kiets guidance.
Trailer: https://www.youtube.com/watch?v=6rYMl0Kc4tY
DOORS OPENS: 18.00/ EVENT STARTS: 19.00
Ticket sales at the door: 70,- (50,- for students)
—– ABOUT THE FILM —–
(Petra Lataster-Czisch, Peter Lataster, 115 min, Netherlands)

Imagine if you can't understand a word the teacher is saying on your first day of school. This is the experience of most of the children who join a special introductory class at the elementary school in the Dutch village of Hapert. Coming from countries like Syria and Iraq, they have all been through a lot. Fortunately, their teacher is Miss Kiet – strict but fair, patient, kind and concerned. Nevertheless, the teacher only plays a supporting role in this observational documentary by Peter and Petra Lataster, who followed the class for a year. They filmed everything from the perspective of the children – little Leanne, traumatized Jorj, feisty Haya – not only in the classroom, but also during recess, out of the teacher's sight. The result is moving, often funny and sometimes sad, but most of all it gives cause for hope. Miss Kiet doesn't just teach the children Dutch and math, she also shows them how to help each other. She sees who needs to have a talk, or who could use a new pair of glasses. By the end of the school year, the class has become a safe and close-knit community.
In Collaboration with:
Oslo Dokumentarkino (The Oslo Documentary Cinema), Nordic Black Theatre & Cafeteatret and Norwegian Film Institute
På Doc Lounge i Oslo får du servert det beste av internasjonal dokumentarfilm. I tillegg står spennende gjester, musikk, mat og mer på menyen.
mer info fra Oslo Doc Lounge facebook page: https://www.facebook.com/docloungeoslo