fredag 22. september
Konserten er dessverre avlyst
Winter scene meets dancer Helena Elisabeth Klokkesund Byrt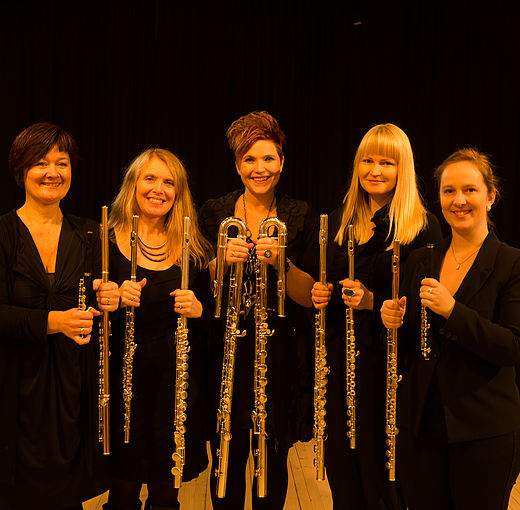 The Norwegian flute quintet 5 Across was established in 2011. Since the beginning, 5 Across has  regularly played concerts and participated in different events. The instrumentation is in addition to the regular c- flute, piccolo, alto and bass flute. 5 Across wishes to expand the repertoire for flute quintet by comissioning works from composers around the world. Their last international performance was at the 43rd NFA Flute Convention in Washington D.C. August 2015.
Fløytekvintetten 5 på Tvers ble etablert høsten 2011. Siden oppstarten har 5 på Tvers spilt jevnlige konserter og deltatt på flere arrangement. 5 på Tvers bruker i tillegg til c-fløyten piccolo-, alt- og bassfløyte. For denne besetningen finnes det noe originalskrevet musikk, men mest transkripsjoner av andres verk. 5 på Tvers ønsker å bidra til å utvide repertoaret for denne besetningen.
Kjell Marcussens «Four Processions», ble bestilt, og urfremført i juni 2013 på Norsk Fløytefestival på Hamar. I august 2015 ble 5 på Tvers invitert til å delta på NFA 43rd Flute Convention i Washongton D.C. Der urfremførte de bestillingsverket «Across the C's» av Adrienne Albert.
I januar urfremførte de bestillingsverket «Quintet for Flutes» av Kjell Magne Andersen.