Konserten er dessverre AVLYST
Tina Malia håper å komme til Oslo i sommeren 2018
31.8. Tallinn, Estonia // KUMU Auditorium // Tickets
1.9. Helsinki, Finland // Gloria Kulttuuriareena // Tickets
3.9. Oslo, Norway // Cafeteatret // Tickets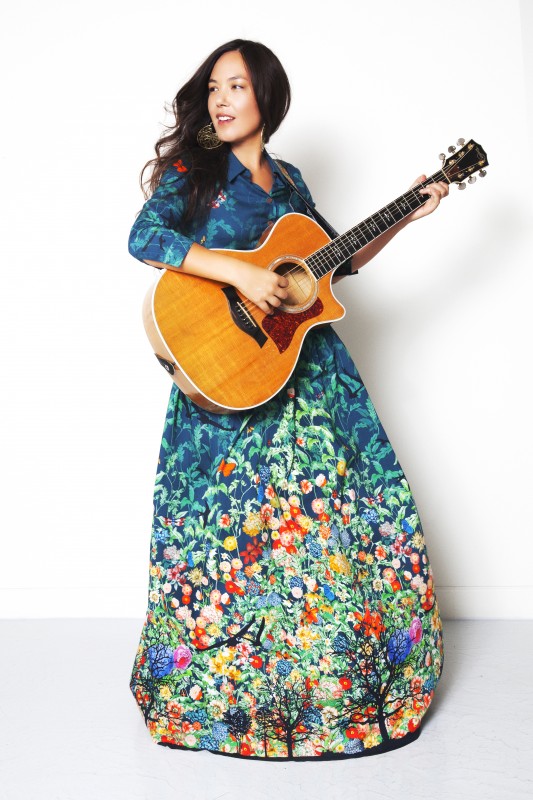 Fans Will Experience Malia's Unique Musical Style and Songs from Her New Sounds True Album, Anahata – Mantras for A Heart Wide Open
The 2017 World Tour showcasing Tina Malia's new album, Anahata: Mantras For A Heart Wide Open will stop on August 31, September 1 and September 2 in Tallin, Helsinki and Oslo respectively. The singer-songwriter/ producer/ instrumentalist will play music designed to wrap her audience in the sublime beauty of the heart and enliven the spirit.
Starting March 25, Malia travels on the first leg of her Tour through four (4) cities in Australia, including a performance at Byron Spirit Festival, before heading to Europe for her first appearance at the Own Spirit Festival on April 15 in Barcelona. She will be touring Europe until the end of September in cities that include first-time visits to Tallin, Helsinki and Oslo. She also plans more stops in new cities, as well as returning to cities previously toured. The Tour's full list of dates and ticket information can be found on the singer's website www.tinamalia.com.
Tina Malia's magical voice and profound gifts as a multi-instrumentalist, composer and producer have enabled her to span a multitude of musical genres, from devotional mantras to dream pop to world. Her own exquisite catalog is complemented by studio and live work with iconic artists India.Arie, Deva Premal and Miten, Bassnectar, Jai Uttal and Kenny Loggins.
Thrilled to be visiting her fans and friends in these Nordic countries, Malia looks forward to bringing her musical inspiration to these magical cities.
"Music, through its sheer beauty, has the power to free the heart, uplift the soul and connect communities all over the world. When we gather together to sing, dance, pray and remember our connection to life and one another, we are touched by the simple act of love moving through sound. I can not think of a better way to spend my time than sharing this joy," reflects Malia.
Having recently won four categories for the 2016 Global Peace Song Awards, Tina Malia is a beloved pioneer in a growing community of people around the world dedicated to residing in harmony with the Earth, and expressing it through art, health, education and music. Tina's acclaimed catalog of self-produced albums includes Shores of Avalon, Jaya Bhagavan, The Silent Awakening, The Lost Frontier, Bridge to Vallabha and now, Anahata: Mantras For A Heart Wide Open.
Bio
Tina Malia is a musical visionary in the world, dream pop and sacred chant communities. The omni-talented Malia uses her artistic gifts as singer-songwriter, instrumentalist and producer to express her radiant inner landscape with an exceptionally broad creative palette. Her voice, an instrument of exceptional purity, can be as tender as an angel's sigh or as powerful as a deep ocean current. Tina embraces the heart through her original compositions, with lyrics that elate and music that inspires.
Her mother, a renowned concert pianist and opera singer from South Korea, was the driving force in Tina's classical musical education. It was her father, however, who bought her a guitar when she turned 15 and encouraged her to follow her musical
curiosities. "I remember first discovering so many great women of folk music – Joni Mitchell, Joan Baez, Ani DiFranco, Alison Krauss. Listening to them was basically how I learned to play the guitar, and it's also when I began writing my own songs," says Malia. Not long after the release of her first album, the accolades winning Shores of Avalon, Tina met pioneering world chant artist Jai Uttal, who recruited her to sing in his groundbreaking ensemble – the Pagan Love Orchestra. It was through Jai that Tina was introduced to the rich spiritual tradition of Sanskrit mantras.
"When I first started singing with Jai," recalls the Amida recording artist, "I didn't understand the power and beauty that is held within a mantra. But later, when I was going through a difficult time in life, I was able to turn to this practice and receive the healing that comes with the repetition of these sacred sounds. To this day, I attribute my sense of wellbeing to chanting mantra. It is so simple and yet so extraordinary." Tina's love of mantra is reflected on her 2005 album Jaya Bhagavan, her 2015 release, Bridge to Vallabha, and – now, on her newest release, Anahata: Mantras For A Heart Wide Open.
Tina's all-encompassing worldview and artistic perspective have led her to studio and live work with a wide variety of iconic artists such as pop singer India.Arie, revered chant artists Deva Premal & Miten, world music favorites Omar Faruk Tekbilek and Idan Raichel, EDM trailblazer, Bassnectar, and cherished songwriter Kenny Loggins. Tina's prodigious talent seamlessly harnesses all of these styles as is evidenced in her selfproduced catalog of albums: Shores of Avalon, Jaya Bhagavan, The Silent Awakening, The Lost Frontier, Bridge to Vallabha and Anahata.
Malia's music has been acclaimed by audiences the world over, radio, press and industry tastemakers, including Echoes' John Diliberto, Kenny Loggins, Jai Uttal, Bassnectar, Yoga Journal, Zone Music Reporter, Music Connection and Huffington Post.