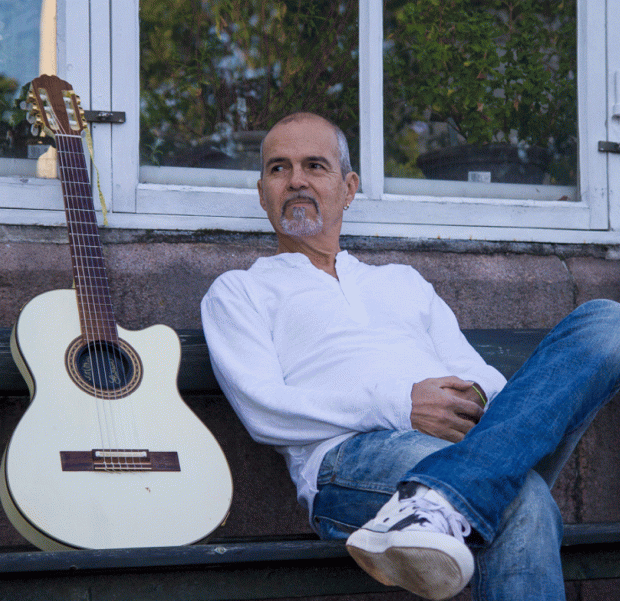 torsdag 21. september kl. 20:00 – kr 100/50 (samspill medl)
Claudio Latini er en veteran innen brasiliansk musikk. Han kunne betegnes som veteran blant musikere med international bakgrunn bosatt i Norge.
Latini har lansert 11 album.
Spotify:
https:// open.spotify.com/ track/ 42DKkTvxWjwZKf4Tsy4dct
https:// open.spotify.com/ track/ 6uleRWsgaejH8nGtUdug2H
BAND:
Oddrun Lilja Jonsdottir – gitar
Oddrun er en allsidig nyskapende musiker og gitarist fra Oslos jazz- og verdensmusikkscene. Hun har prosjekter i Asia, Afrika, New York og Europa og samarbeidet med mange store navn innen jazz og tradisjonsmusikk fra forskjellige deler av verden, deriblant sitarvirtuos Ashraf Sharif Khan, gnawamester Zakaria Houaoura og jazzpioner Bugge Wesseltoft. Hun er for tiden aktuell med bandet Moksha som har gitt ut sin debut «The Beauty of An Arbitrary Moment» pa Jazzland recordings, i tillegg til Bugge Wesseltofts «New Conception of Jazz».
Gerardo Orrego – bass
er en ettertraktet musiker som ogsa blandt annet har spilt med Hakon Graf og i Grupo Zanza.
Joao Lufs Lobo – trommeslager
har en lang karriere bak seg i Portugal og har spilt med navn som Mafalda Veiga, Jorge Palma, Sergio Godinho og Janita Salome.